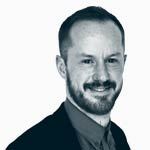 We are pleased to announce that Sam Wakelin has been appointed as Business Development Manager and will be working alongside Will Croxford covering the Midlands and the North of England.
Sam returns to Triflex following on from working successfully in sales roles in the Midland's region. Sam has previously worked at Triflex within the Technical Team and is perfectly placed to support you with any liquid waterproofing, surfacing and protection enquiries you may have for your roof, walkway, balcony, terrace or car park projects in Cheshire, Cumbria, Derbyshire, Durham, Greater Manchester, Isle of Man, Lancashire, Leicestershire, Lincolnshire, Merseyside, Northamptonshire, Northumberland, North Wales, Nottinghamshire, Shropshire, Staffordshire, Tyne and Wear, Warwickshire, West Midlands, Worcestershire, Yorkshire.
Sam is happy to assist with any of the following:
Technical guidance and project support
Site surveys, testing and initial consultation
Specification proposals
Authorised Installer enquiries
Training and CPD enquiries
Pricing and product information
You can reach Sam on 07971 049570 or sam.wakelin@trifex.co.uk who can help you with all project support.