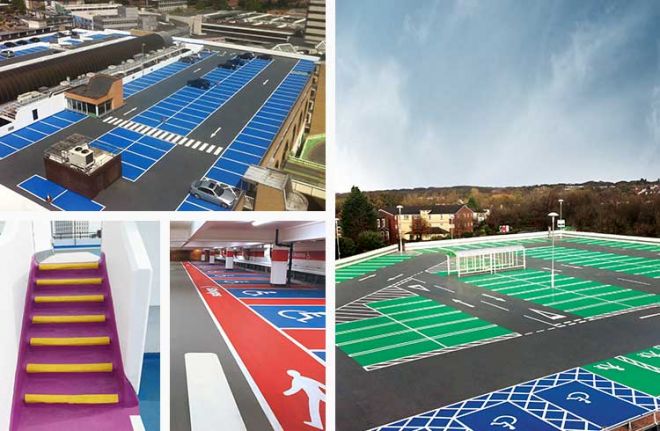 We have all heard the expression; "You really can judge a person by their shoes", well at Triflex we believe that a neglected, uneven or a dirty car park can have a negative effect on your business.
Whether it is a single storey car park or a multi-storey shopping centre car park, first impressions have a significant impact on the reputation of your business. Triflex understands that your customers may judge the calibre of the businesses on premises by the quality of their surroundings when they first arrive, old and rundown car parks can lead customers to question the importance of customer care or even the financial situation of a business. Therefore making the appearance of your car park as important for your business and brand as your front of house presentation.
Triflex is currently experiencing an increased number of requests for bespoke car park solutions, ranging from unique customised coloured car parking spaces to embedded business logos in the car park system. One of our recent customers said:
Adding our logo and customising our car park regularly creates a talking point amongst customers, they are impressed with the level of care we take with our premises, and it provides them with an overall enhanced experience.
Triflex offers a number of solutions, from fully reinforced, over occupied waterproofing and surfacing solutions to heavily trafficked service decks. Our technical team have been working with car parks for over 20 years, striving to create outstanding quality car parks designed to look great and perform for a long time.
Find out more about our creative car parks