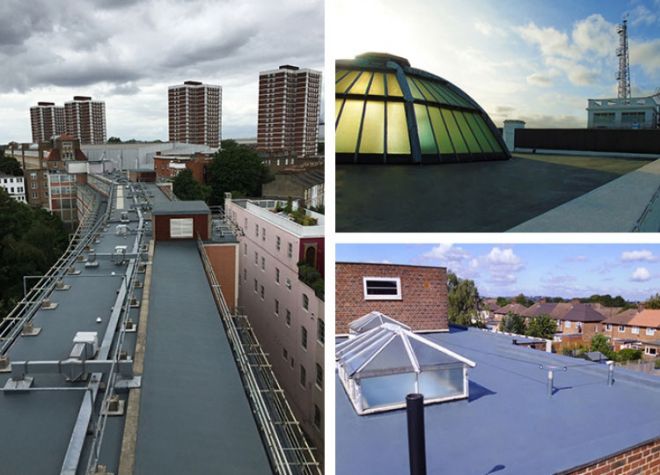 A roof waterproofing system must adapt to the conditions on the roof while offering performance without compromise and maximise design possibilities. To put it simply, it must remain watertight.
Triflex offers a wide range of highly certified, seamless, cold liquid applied waterproofing, surfacing and coating systems for flat roofs, details and repairs. All Triflex systems are based on the most advanced polymer chemistry, delivering technical excellence and exceptional waterproofing integrity. Triflex systems have advantages over all conventional and sheet applied materials including cure times, ease of use and whole-life costing.
By selecting Triflex waterproofing liquid roof systems, you are choosing a proven solution from a dependable partner you can trust.
Cold liquid applied waterproofing
Liquid roofing products and detailing systems
Cold liquid applied waterproofing, surfacing and protection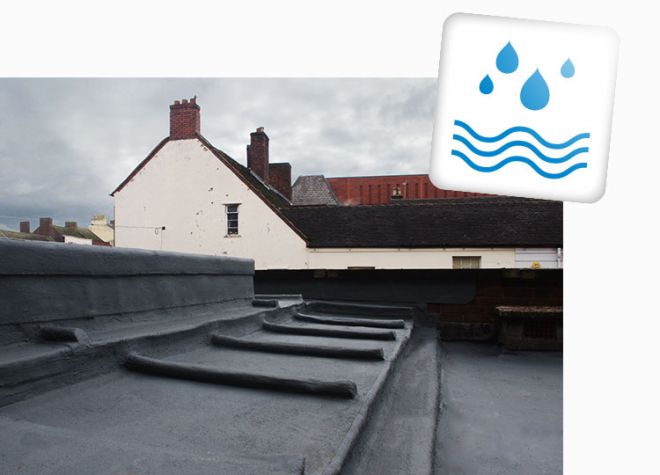 Compatible and versatile solutions
Whether your project requires the refurbishment of a roof, a roof overlay, a new build roofs, or a roof repair, with Triflex you always have the ideal and long lasting solution for your waterproofing requirements.
Triflex systems are designed to be applied to almost all roof substrates. The Triflex laboratory has tested compatibility on more than 7,000 membrane samples including numerous single ply products, the overlay of which is a Triflex speciality.
The properties of Triflex systems allow the costs, risks and disruption associated with the removal of the existing waterproofing system to be totally eliminated. In addition, the versatility of our solutions allows them to be used in wide-ranging applications.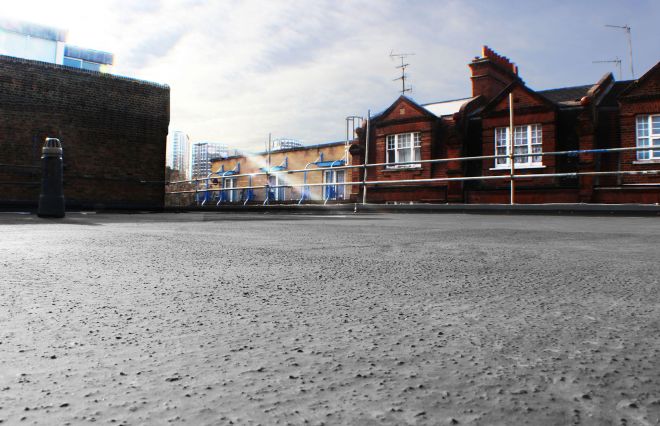 Flat roofs can strike fear into the hearts of many building owners due to the renowned leak-prone versions of the 1980's and before. But today, waterproofing has come along way from those problematic days. Especially when your roof is protected by a Triflex cold liquid applied waterproofing system which is the ideal solution for both flat roof refurbishment and new build roofs. In fact, Triflex systems are the ideal solution for a wide variety of build-ups including; insulated, inverted, submerged, heavily trafficked, podiums, plaza decks, sensitive environment and much more.
Our fully reinforced, seamless liquid flat roof systems are based on the most advanced solvent-free chemistry, with fast curing as a standard, and odour free options available, Triflex roof waterproofing systems offer significant advantages over both conventional materials and non-specialised liquid roofing systems UK competition. In short, we offer liquid waterproofing for flat roofs you can trust.
Triflex ProTect
A warm roof construction has many benefits over a traditional roof, including increasing thermal performance and helping to lower carbon emissions. The Carbon Trust state that around 60% of a building's heat is lost through the buildings fabric, with up to 22% lost through the roof. Installing effective roof insulation will reduce heat loss, saving building owners and residents significant sums of money every year.
Our fully integrated and engineered warm roof systems comprise of all build-up elements. They create a 'breathable roof construction' allowing moisture to escape, and preventing moisture from being retained within your building. With the choice of PIR, mineral wool and Foamglas insulation in combination with our durable cold liquid applied waterproofing systems, the long-term performance of your roof is guaranteed.
Triflex is also the ideal waterproofing system for use in inverted applications, where the hydrolysis resistance of Triflex prevents the waterproofing liquid roof membrane from being broken down over time by standing and ponding water. The inverted system can be used with various overburden. Typical build-ups including a geotextile filter fleece, extruded polystyrene (XPS) insulation, a water reducing layer and various overburden, including paving, decking (with and without pedestals) and ballast.
Triflex ProTect warm roof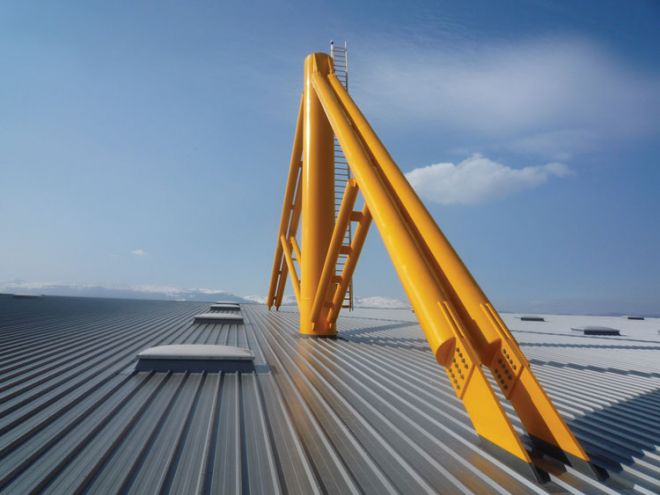 In addition to common problems including waterproofing gutters and penetrations, metal roofs are subject to specific issues including cut edge, end-lap and general corrosion combined with high levels of thermal movement, as well as gutters and drainage channels sometimes being problematic.
Our range of metal roof solutions offer lasting protection with proven adhesion, durability, flexibility and corrosion prevention and protection.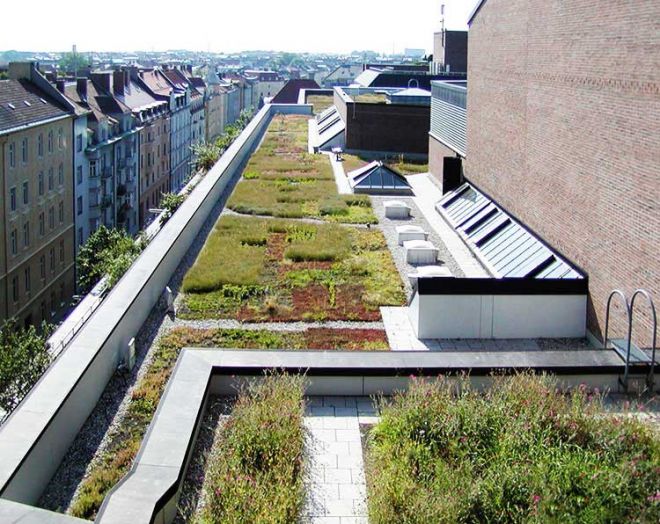 Green roofs or "living roofs" are becoming increasingly popular within cities where their use is encouraged to combat the urban heat-island effect. Many people choose to install a green roof for their visual impact, without realising the significant number of environmental benefits that come alongside it.
By their very nature, green roofs absorb rainwater, lower urban air temperatures and create a habitat for wildlife. Building owners also see benefits such as sound insulation, structural protection and better thermal performance.
Triflex waterproofing solutions are ideally suited for green roofs as they provide the toughest protection without the added weight to the roof. Our cold applied roofing systems can be installed at temperatures as low as 0°C and are rainproof after 30 minutes, allowing further stages of the installation to be completed. Triflex roofing systems provide a tough, root and rhizome resistant finish without additives which cannot be degraded by standing water or be washed-out and guarantees that the foundations to your green roof are protected for years to come.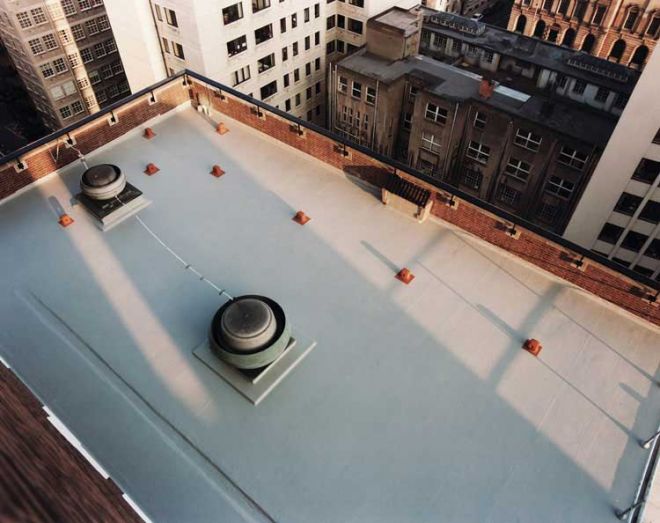 The safety and security of any building and its occupants are highly important when undergoing any form of maintenance. Traditional roof waterproofing and surfacing materials are often applied using gas torches, burners and hot air guns, not only do these techniques pose a significant fire risk, but they also lead to an increase in insurance premiums.
Triflex cold liquid applied roofing systems not only eliminate any risks caused by hot works but also provides solutions that are solvent and isocyanate free, but Triflex ProThan is specifically designed for use in highly odour-sensitive environments such as; food processing facilities, rail and underground areas, schools and nurseries, phar­maceu­ti­cal spaces, la­bo­ra­to­ries, hos­pi­tals and cli­nics removing the need for additional ventilation.
Triflex ProThan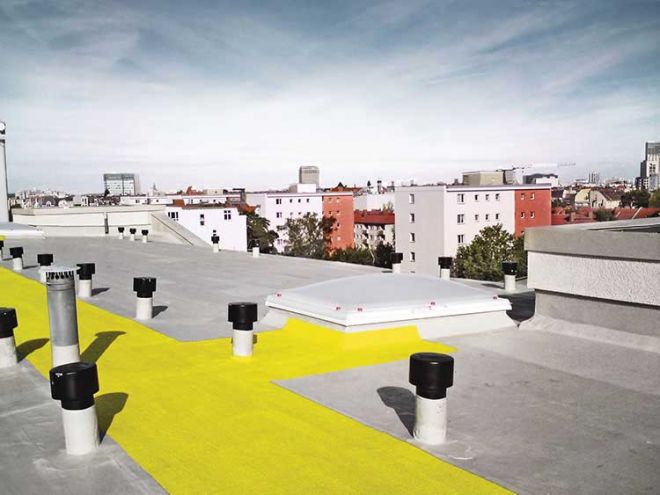 Roof details, repairs and markings
Roofs are often at their most vulnerable to water ingress at details, so it is essential that these areas are reliably waterproofed. With Triflex you have a solution that forms a strong bond and self-terminates, removing the need for termination bars and providing a reliable, lasting waterproofing solution.
Our renowned detailing systems are used for millions of linear meters of detailing every year, right across the UK and mainland Europe, where Triflex is recognised as the market leading provider of detail waterproofing systems. 
Triflex detailing systems are the ideal solution for applications ranging from gutters and upstands to the most complex and intricate penetrations combining complex angles, materials and substrates.
If your roof also requires a walkway or access area, we can also provide a solution that stands out, and cures within 10 minutes.
Triflex ProDetail