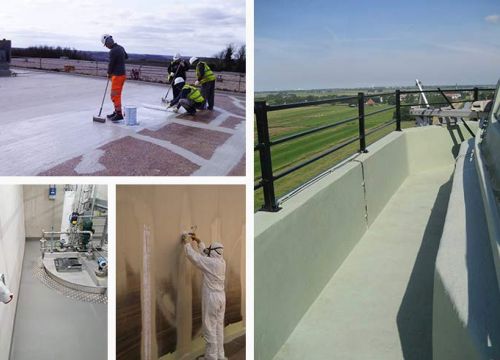 Special conditions require resilient solutions
Clean water is critical to the water industry. In order to maintain and contain clean water structures must be durably protected. Protecting these structures depends largely upon the protection of steel reinforcement from corrosion, the prevention of erosion of concrete due to chemicals and abrasion and the prevention of clean water contamination caused by poor structural waterproofing. Structures such as service reservoirs and water towers are significant assets and require effective waterproofing and maintenance for them to remain in full working condition.
At Triflex we have the cold liquid applied systems and solutions that can help to protect these valuable assets efficiently and for the long term. Systems ideally suited to waterproofing and protecting large areas and details, no matter how intricate, and on nearly every type of substrate.
Fully reinforced, durable, tried, tested and proven to perform on over 7,000 substrates including asphalt. This allows Triflex systems to overlay failed waterproofing membranes, saving the associated time and cost of removal of existing waterproofing systems.
Thanks to our systems cold applied application process there is no need for hot works. Installation can even be carried out all year round, with systems that cure at temperatures down to -5°C.

Durable, long term structural protection
Resistant to degradation from water (hydrolysis resistant)
Cold liquid applied – no need for hot works during application
Rapid curing in as little as just 45 minutes, even at low temperatures
Can be applied at any time of year,

in temperatures as low as -5°C, and there is no need to close down facilities

Solvent and isocyanate free
Waterproof down to the smallest detail
With our natural resources becoming more precious and ever-increasing environmental legislation, the need to efficiently retain clean drinking water within structures is just as important as keeping water out. Triflex solutions are ideal for the waterproofing and surfacing of reservoir roofs whether it's a refurbishment or a new build.
The effective management of these assets is absolutely crucial in order to protect the water within the structure. By waterproofing and protecting reservoir roofs this can ensure that water contained within is protected from contamination that could occur through poor waterproofing and concrete erosion.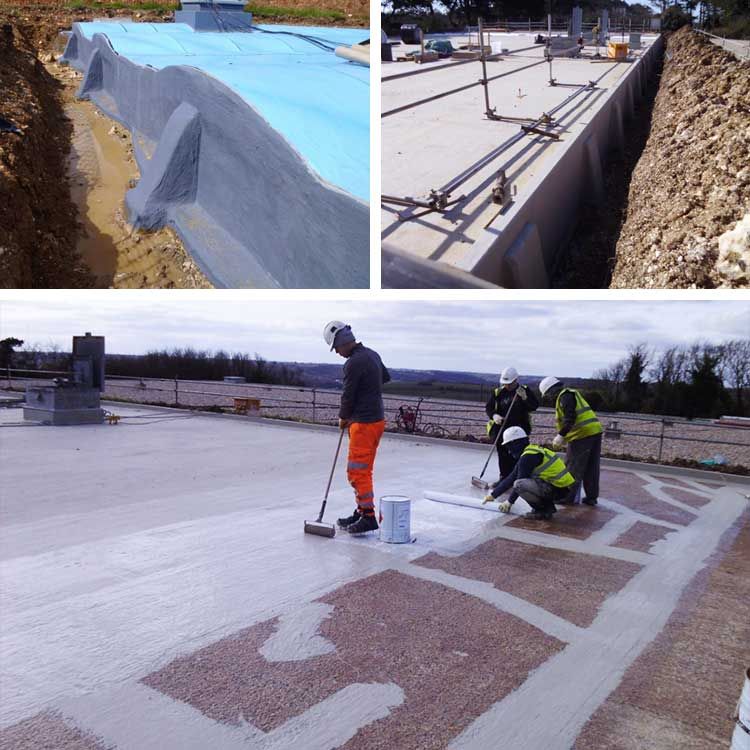 Triflex is familiar with the challenges associated with the maintenance of various retaining structures. With over 40 years' of experience in flat roof waterproofing and highly trafficked car park waterproofing and protection, it's safe to say that we are experienced in protecting and overlaying a wide range of substrates including asphalt and concrete to provide durable waterproofing.
Like reservoir roofs, towers are subjected to the harsh forces of nature including high winds, and after time cracks can form. Triflex solutions can waterproof down to the smallest detail and can accommodate structural movement, ensuring that towers are totally waterproof and sealed. Protecting against contamination for years to come.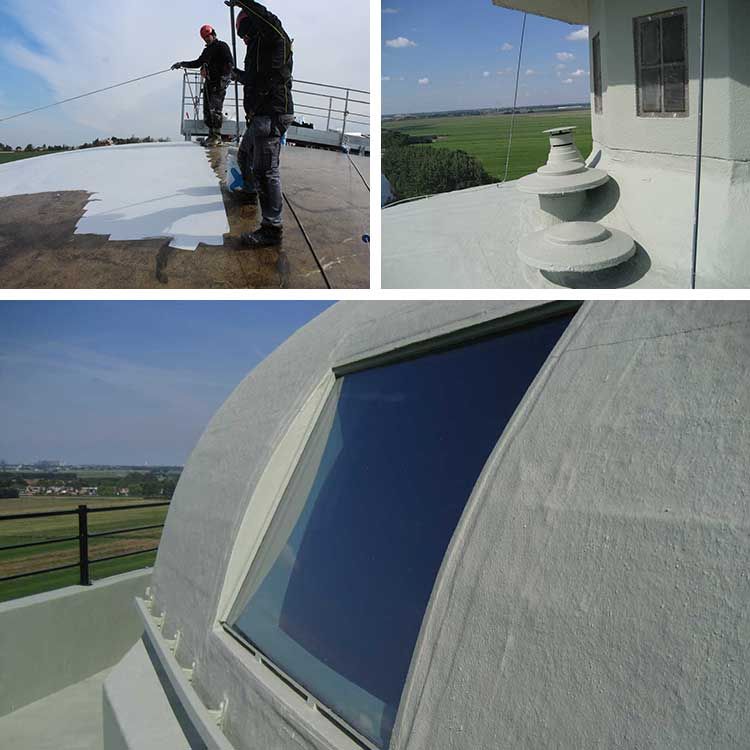 Wastewater collection and treatment plants can succumb to rapid deterioration of concrete surfaces and steel structures if not properly protected. This is due to the biogenic sulphuric-acid being released above the water line within the tanks.
Triflex systems are highly resistance to biogenic sulfuric-acid corrosion, making them ideal to withstand the severe conditions that occur above and below the water line in pre-treatment, aeration tanks, digesters, or sewers.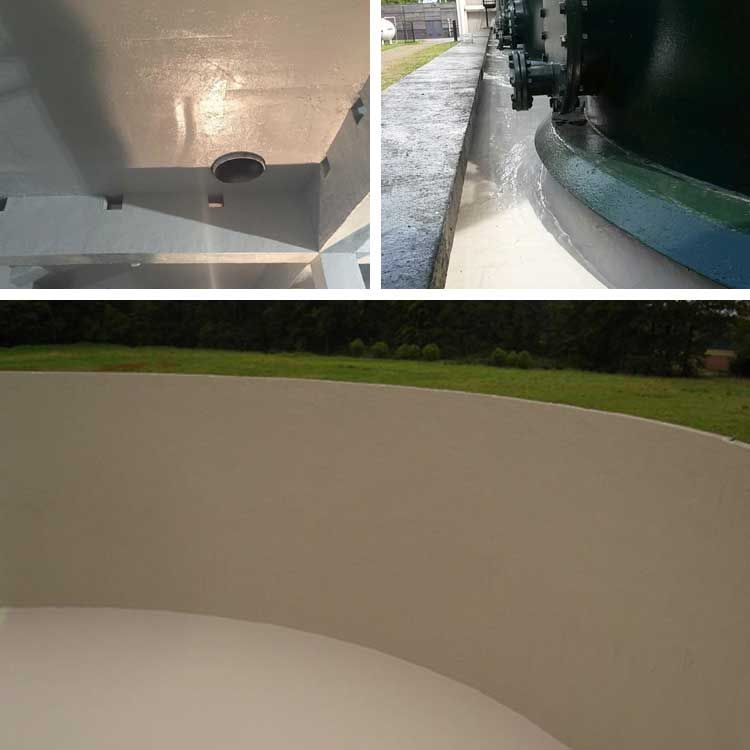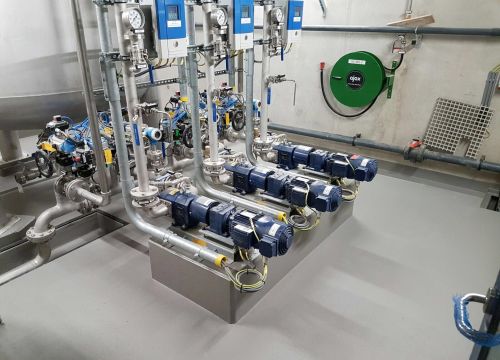 Solutions for pipes and detailed areas
Whether you require remedial works or waterproofing of a new installation, we can provide you with the right solution that's waterproof down to the smallest detail. By combining a unique highly flexible resin with a special high tensile strength polyester fleece which is proven to accommodate high levels of movement and cracking within different substrates. Our systems provide the ideal solution for virtually all details, including upstands, gutters, pipes and penetrations.
Find out more
Triflex systems are UV resistant and will not break down when exposed to direct sunlight. This eliminates any need for ballast, helping to reduce installation time and cost.
Solutions for a wide range of application areas
Triflex systems are compatible with over 7,000 different substrates including failed asphalt and concrete, allowing any existing membranes to be directly overlaid. This reduces the time and cost of the removal of the existing membrane and eliminates the need for waste disposal.
Many Triflex systems accommodate crack bridging ensuring that high levels of movement and cracking within the structure and between substrates pose no concern.
Triflex is the ideal solution for a wide range of application areas within treatment plants such as sewers, screening channels, sedimentary tanks/clarifiers, biological tanks, filtration beds and reservoir roofs.
Safe year – round application
Triflex cold applied waterproofing and surfacing systems can be installed at any time of year and in temperatures as low as -5°C. The curing process typically takes about 45 minutes regardless of the external temperature and can even cure if rained upon. The systems are totally safe, do not contain solvents or isocyanates and pose no fire risk. These properties allow works to be carried out all year round with minimal disruptions and reduced need for access, lowering scaffold costs and labour time.
Getting your waterproofing specification right
Many water industry buildings are built using concrete and steel which are susceptible to chemical attacks, joint leaks, cracks and surface corrosion. These common causes of failure are often due to the degradation of the existing waterproofing membrane. Triflex systems can be used to directly overlay materials such as asphalt, bitumen, metal, plastics and many others, eliminating the need for removal.
Our job is to make sure that you get the right solution. Our cold applied waterproofing and surfacing systems are based on extensive research and development, but helping you get the right answer is about far more than this. From day one of your project, we will work with you to get the specification that meets your needs. This involves:
Consultation. We will listen and work with you towards a solution right from the first enquiry
Survey. Our technical team will carry out a thorough on-site condition survey
Testing. If needed we will conduct core, adhesion, cohesive strength and other testing
Specification proposal. After evaluating your project, we will provide you with a comprehensive bespoke specification
Installation. We only work with our network of Triflex Authorised Installers to ensure the highest quality installation

Site support.

We can provide on-site support and quality control if required

Warranty.

Our solutions are underpinned by meaningful warranties backed by insurance