In highly sensitive environments such as hospitals, food processing and pharmaceutical facilities, it is sometimes necessary to use an odour free roof waterproofing system.
The BBA and ETA certified Triflex ProThan is the ideal solution as it utilises a solvent-free resin technology that is odour free during application. The cold liquid applied system does not require any hot works and can also be used internally within buildings without the requirement for additional ventilation.
Compatible with the majority of substrates and suitable for both new-build and refurbishment, the highly certified system is the obvious choice for highly sensitive roof waterproofing.
Odour and solvent free
The two component polyurethane resin used in Triflex ProThan is odour free during application, making it ideal for use in highly sensitive areas, such as hospitals, food processing, pharmaceutical and other sensitive facilities. The solvent free system can also be used in internal areas without the additional need for ventilation making it ideal for plant rooms and internal bunds
Versatility and compatibility
Whether for refurbishment or new-build, Triflex ProThan is suitable for virtually all roofing applications. The significant costs, risks and disruption associated with removal of the existing membrane are eliminated as the system is compatible with almost all roof substrates. Even the direct overlay of failed single ply and other membranes is possible. Roof waterproofing made easy.
Cold applied
There is no risk from hot works during installation as all Triflex materials are applied in a totally cold liquid form, curing to create a long term waterproofing solution.
Single process application
Installation time and costs are significantly reduced when compared to multi-coat, typically solvent based, single component polyurethane systems. The single coat application eliminates the risks of inter-layer adhesion issues.
Fully reinforced technology
The unique, highly flexible Triflex ProThan resin is used with a special high tensile strength polyester fleece to ensure that high levels of movement and cracking within the structure and between substrates can be accommodated. Proven fully reinforced waterproofing technology that stands the test of time.
Tough and durable protection
The standard Triflex ProThan system is designed for foot traffic and provides exceptional puncture resistance when compared to many alternative materials. With the option to include a heavy duty wearing layer, even the most heavily trafficked industrial roofs can be securely waterproofed and protected from damage.
Tried and tested
Triflex ProThan offers a complete waterproofing solution that will last for years to come. The system is certified and tested to the highest UK and European standards and offers proven performance.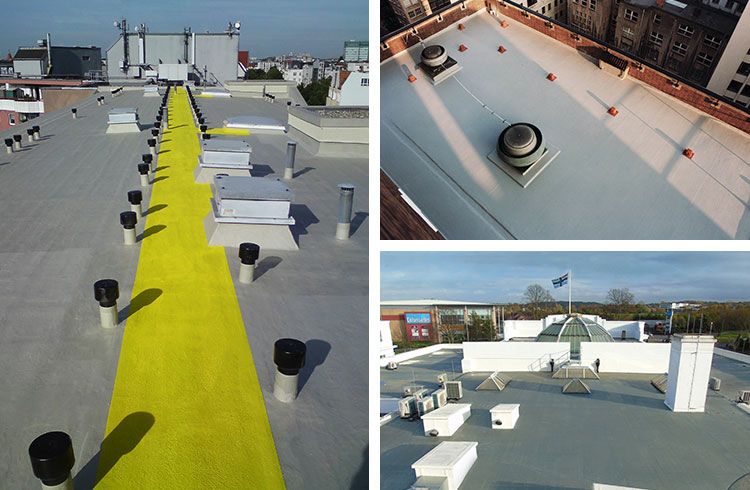 Highly odour sensitive environments
Internal waterproofing
Refurbishment
New build
Overlay of existing failed waterproofing systems
Warm roofs (all insulation types)
Inverted roofs
Podium / plaza decks
Buried membrane roofs
Green roofs
Brown roofs
Blue roofs
Bunds / storage tanks / silos / plant rooms
Felt
Asphalt
Bitumen
Single ply membranes (e.g. PVC, PVC-P, EPDM, EVA, TPO, FPO, TPE, CPE, PIB, VET etc.)
Cementitious materials (concrete, brickwork, masonry)
Metals and coated metals
Plastics
Coatings (e.g. polyurethane, polyurea, polymethyl methacrylate)
Solar reflective coatings
Glass
Timber
Triflex ProThan is available in 7009 Green grey and 7016 Anthracite grey.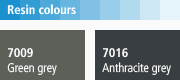 Request a sample
Triflex installations are carried out through our network of Authorised Contracting Partners, if you are already authorised you can place an order by emailing orders@triflex.co.uk. Alternatively if you looking for an installer in your area, click here to find your local Business Development Manager, who will be more than happy to discuss your requirements and provide you with a list of suitable contractors.
Find your local support

The system is fully certified to the highest UK and European standards and classifications, including:
BBA certified
Durability: Under normal service conditions the system will provide a durable roof waterproofing with a service life in excess of 25 years
 ETAG 005 certified
Highest classification in all criteria including W3 - 25 year durability
Fire performance
BS 476-3 (EXT.F.AA)
EN 13501-5: Class BROOF (t1) / (t4)
EN 13501-1: Class E
Root and rhizome resistant
FLL Certified: Root and rhizome resistant
EN 13948: Resistant to root penetration
NHBC accepted
Manufacturer certification
ISO 9001: Quality Management
ISO 14001: Environmental Management
ISO 50001: Energy Management