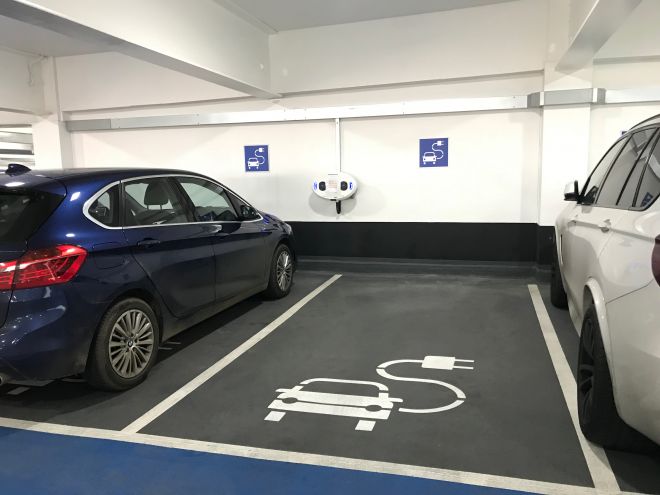 As demand for electric vehicles (EVs) intensifies in readiness for the phasing out of new petrol and diesel vehicles by 2030, vehicle charging infrastructure is fighting to keep pace. 
Current EV owners rely mostly on home and workplace charging, but demand for an extensive public charging network is growing to facilitate longer journeys and alleviate the perception of 'range anxiety' as experienced by potential EV owners.
EV charging facilities will eventually outnumber traditional petrol stations. Until that time, how do drivers quickly locate EV charging bays in a large parking facility, especially as there is no standard format at present?
To assist, roadways can be enhanced with boldly coloured directional signage and text. The EV bays themselves should be clearly differentiated from other parking bays, such as disabled or parent and toddler parking, chiefly through colour and easily recognisable symbols. Furthermore, safety and the overall user experience can be enhanced through anti-skid walkways and crossings, to direct pedestrians safely from the charging bays to nearby destinations, for example restaurants within motorways services.
For those forward-thinking sites, branding can be reinforced through colour, design and logos, to strengthen identity and create synergies with other marketing efforts.
Triflex EV charging bay markings
Triflex marking and coating products have been tried and tested throughout some of the UK's busiest car parks for over 20 years and are a mainstay of the German Autobahn network.
Available in a significantly wider colour range than traditional marking materials, our systems have been designed to be easy to install, totally cold applied and rapid curing even at temperatures down to 0°C.
Find out more about markings and coatings
Colours and finishes
Maximum colour and design possibilities. Create a design to meet your safety and aesthetic requirements with a wide range of standard colours.
Totally cold applied
There is no risk from hot works during installation as all Triflex materials are applied in a totally cold liquid form, curing to create a tough, durable solution that lasts.
Rapid curing
Triflex PMMA products are exceptionally fast curing and enable areas to remain open during installation, limiting access restrictions and unnecessary disruptions. Installation can be carried out all year round, still curing at temperatures down to 0°C.
Anti-skid
The high level of skid resistance make Triflex products the ideal solution for EV charging bays, pedestrian walkways and footpaths.
Durability
Triflex markings are tough and durable, unaffected by ponding water and resistant to road salts, petrol, diesel, brake fluid, engine oil, battery acid, de-icing and approved cleaning products.
Weatherproof
Triflex's range of EV charging bay markings are designed to be weather, UV and IR resistant and will not break down when exposed for the long term to direct sunlight.
New and refurbishment schemes
Triflex marking systems for EV charging spaces are equally at home in new build and refurbishment situations, for both internal and external car parking environments.
Where parking bays are to be upgraded to EV charging spaces, often repairs are required first. Our infrastructure products can be used in combination with our marking solutions for:
New and refurbishment schemes

Internal and external parking environments

Repairs to wheel indentations, potholes, trench filling, equipment repairs etc.

Blacking out of existing markings / layout reconfiguration
Contact us to learn more about our infrastructure products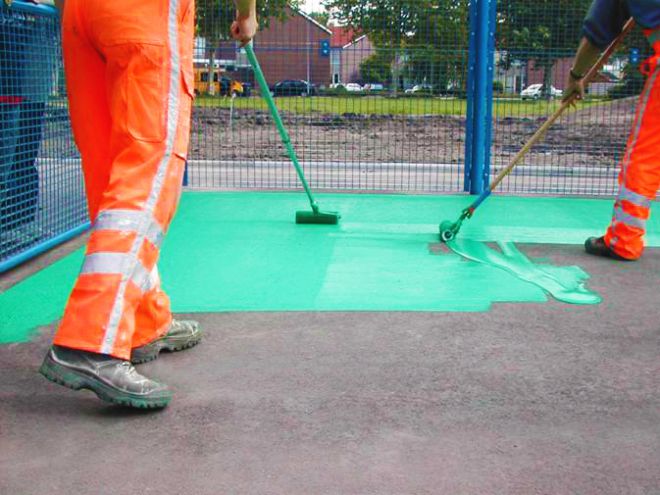 Triflex marking and coating products provide outstanding adhesion to a wide variety of substrates, including:
Asphalt including Hot Rolled Asphalt (HRA) and Stone Mastic Asphalt (SMA) (new and old)

Tarmac / Tarmacadam / Macadam (new and old)

Concrete

Existing markings

Coatings (e.g. polyurethane, polyurea, polymethyl methacrylate, epoxy)

Pavers / brick paviours

Granite

Metals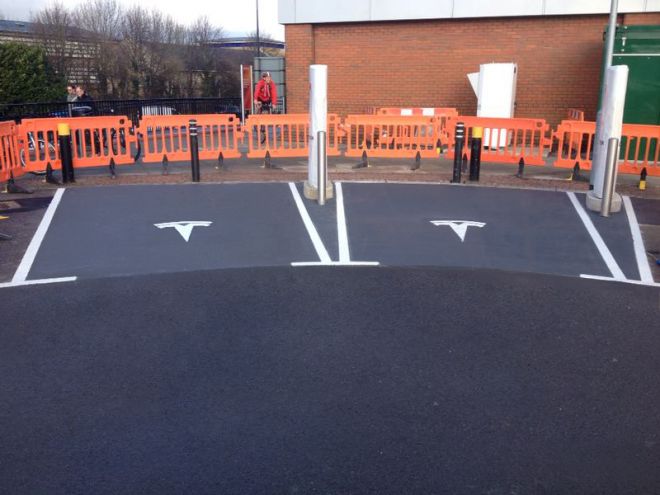 Triflex technical support
All of our clients receive the same level of technical service, support and backup from the initial enquiry right up to delivery of your completed project, but not every car park is the same, with widely differing vehicle types and space change rates.
We understand that you want to find the best value, lowest risk solution which has been specifically engineered for your project and our aim is to help you achieve this. Triflex can tailor the solution to deal with light, medium and heavy duty applications.
Our technically focused Business Development Team carry out the majority of surveys, supported by our fully equipped mobile Field Technicians who can assist with testing and insitu samples.
We pride ourselves in offering the best level of service in our industry, that's why our motto is 'Delivering solutions together'.
Testing for long term success