Our solutions are ideal for the construction, repair and maintenance of stadiums and event facilities. We can provide you with reliable and robust waterproofing, surfacing and protection from the basement of your facilities to the roof, the car park and beyond. By using Triflex you can ensure that your customers are protected in your environment from the moment they arrive to the moment they leave.
The strength and durability of our materials are not their only advantage. They are cold applied as a rapid curing liquid resin. This allows works to be completed safely with significantly reduced health and safety risk when compared to other systems. Allowing works to be completed with minimal disruption to your visitors and helping to reduce the amount of time contractors have to spend on-site.
With all stadiums and event facilities, it is critical to create and maintain an attractive and safe environment. That's why our waterproofing and surfacing systems not only ensure a safe and secure environment for all visitors and staff, they also maximise the design possibilities. Allowing you to tailor your facilities to meet your needs. Our systems come in a wide range of standard colours, bespoke colours can also be made to order. This offers you total freedom in creativity. Sports venues can be tailored to team colours and event facilities can have clear demarcation and signage.
Solutions for the entire stadium
Our waterproofing, surfacing and protection systems are designed for every aspect of a customer's experience. From the car park, walkways, markings, wayfinding and signage, to the stairs, stairwells, access ramps and roofs. They are functional, durable, slip-resistant and aesthetically pleasing.
More than 40 years of global experience
Our waterproofing, surfacing, protection and marking systems have been used around the globe, in some of the most prestigious stadiums and event facilities for over 40 years. Take a look at a snap shot of some of our case studies below.
Case studies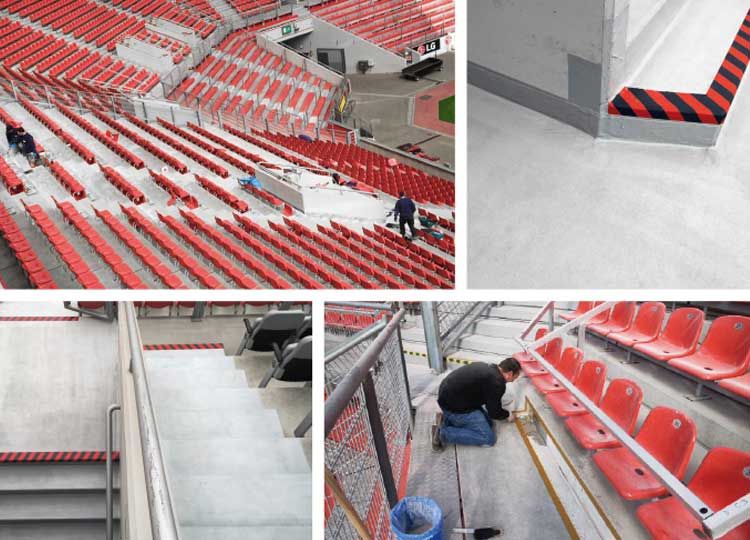 BayArena, Leverkusen, Germany
Solution: Triflex DeckCoat, Triflex ProDetail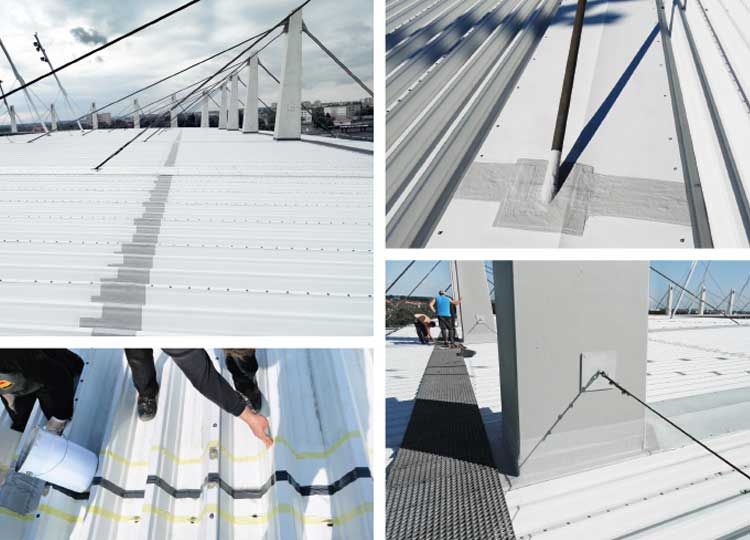 Zaglebie Football Stadium, Lubin, Poland
Solution: Triflex ProDetail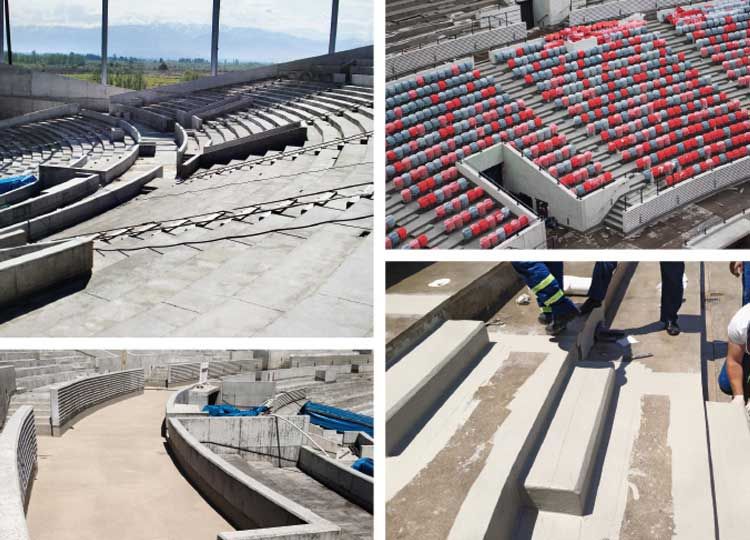 Batumi Summer Concert Hall, Georgia
Solution: Triflex ProTerra, Triflex ProDetail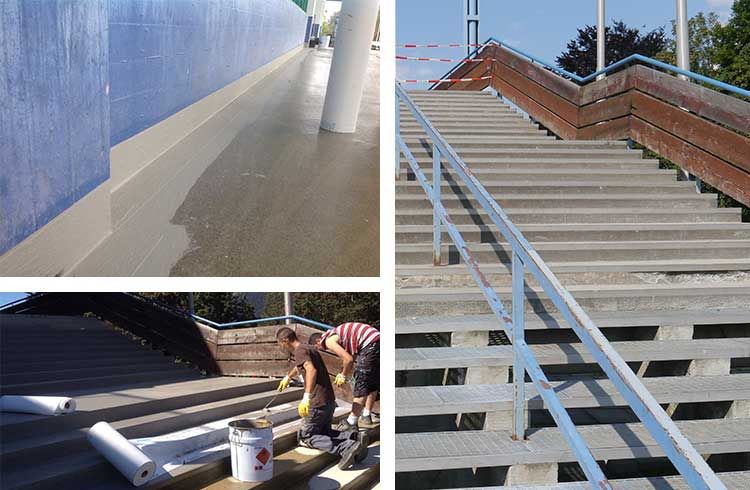 Olympic Ice Sports Centre, Garmisch-Partenkirchen, Germany
Solution: Triflex ProPark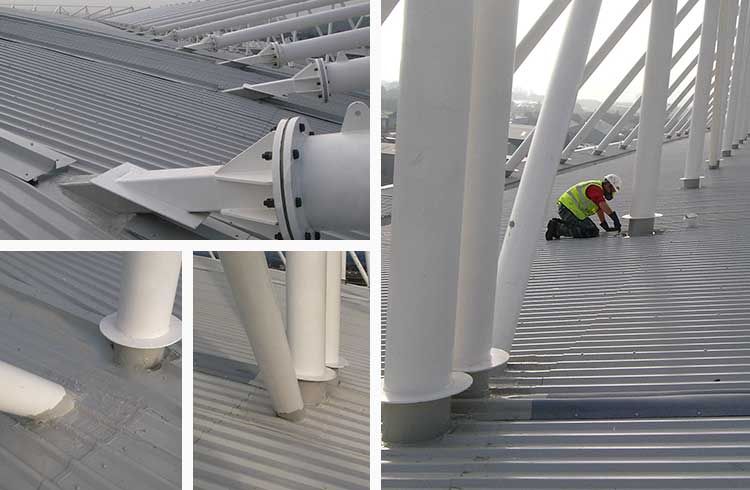 Cardiff City Stadium, Cardiff, Wales
Solution: Triflex ProDetail
Durable, long term structural protection
Cold liquid applied – no fire risk during application
Rapid curing, rainproof in 30 minutes and fully cured in 45 minutes
Installation at any time of year, even in temperatures as low as 0°C and -5°C
No need to close down your facilities meaning no loss of revenue
Available in a wide range of colours to enhance the experience
Solvent and isocyanate free
Tried, tested and approved
Our products meet the highest technical requirements. For you, this quite simply means highly effective, risk-free and reliable:
Top-performing certified products (BBA, ETA, DTA, FLL,etc.)
Long-lasting waterproofing in compliance with the Building Regulations
Fully-developed technology combined with tried-and-tested solutions
Constant product development through in house research and development
Car parks are subjected to high loads from vehicles and are exposed to weathering, wear, mechanical damage and chemical attack. Over time and if unprotected, this can lead to structural damage and in worse cases failure of the structure. Owners or operators have a legal duty of care for the integrity and safety of the structure at all times.
At the same time, a car park is generally the first impression that a visitor has, and first impressions count. It needs to look good and also have good skid and slip resistance with clear markings and signage.
By providing a wide range of high-quality materials, design assistance and colours, Triflex can meet all of these requirements. Our heavy-duty, waterproofing, surfacing and protection systems provide long term structural protection that maintains its appearance and skid resistance over time. Using our systems can help to minimise accidents and improve a user's safety and navigation.
More about our car park solutions
For long term protection of new build and as a rapid, effective answer for repair and refurbishment, our roof and waterproofing systems provide the highest levels of certified protection. Our solutions are also ideally suited to provide lasting protection for metal roofs.
Roofs are not only subjected to the weather all year round but often house a number of services such as PV panels, air conditioning units, cabling and ducting. Supplying a waterproofing solution that can provide protection around even the smallest detail, yet be strong enough to take the regular foot traffic of maintenance teams for all of these services is no mean task.
Our solutions are easy to apply using a roller or brush - so they really come into their own when navigating complicated structures. Once applied they only take 45 minutes to be fully cured and can be walked upon with an hour.
Durable, puncture proof and long-lasting protection for even the most complex of jobs.
More about our roofing solutions
Walkways, terrace and stairway solutions
We offer an extensive range of cold liquid applied waterproofing and surfacing systems in a wide range of colours, textures and finishes, allowing you to tailor your walkways, terraces and stairways to your needs.
This can include colour matching to a teams unique colours or to a businesses branding. You can also be safe in the knowledge that our fast curing systems are based on the most advanced polymer chemistry, providing long term safety and protection.
In summary, we can provide a walkway surfacing and protection solution, that is ready to walk on within an hour, causing minimal disruption that gives you and your customers a safe and pleasant journey.
Walkway, terrace and stairway solutions
Markings, signage and wayfinding solutions
Triflex marking, signage and wayfinding solutions provide outstanding adhesion to a wide variety of substrates. They have be proven to perform in extreme environment, including the German autobahn network, the Nürburgring, as well as on numerous airport runways.
They also offer vastly superior performance to thermoplastic solutions, not only in terms of robustness, durability and colour range, but in terms of safety of application too, as hot works aren't required.
Marking, signage and wayfinding solutions