The majority of multi-storey car parks feature internal concrete decks and ramps over parking or ground bearing concrete decks and ramps. While these areas are generally not exposed to the same external weather influences as exposed decks, they are generally subject to significantly higher high levels of chloride contamination and abrasion through traffic. Studies have shown that the worst degradation to the reinforcement in car park structures typically occurs on the lower levels and lower ramps of car parks.
It is essential that these decks and ramps are waterproofed, surfaced and protected to ensure the structure is not compromised, and Triflex DeckCoat is the perfect solution. The system features our unique, ultra-fast curing PMMA resin technology that offers significant installation advantages over rigid epoxy, polyurethane and polyaspartic systems. In combination with the waterproof and durable anti-skid wearing layer, the system can also include a reinforced, elastomeric and dynamic crack bridging waterproofing membrane for high risk areas.
Rapid installation
With a self priming coating layer (subject to testing) the system can be installed in a simple, two process application, saving time on site and increasing productivity.
Optional locally reinforced, elastomeric waterproofing membrane
Even high risk areas pose no problem for this durable solution, as the system can incorporate a fully reinforced, localised waterproofing membrane designed specifically to accommodate the dynamic movement and cracking within parking structures.
Tough and durable protection
The demands of even the highest trafficked, highest space change rate car parks are no issue for the highly traffic, impact and load resistant wearing layer and durable surface finish used in the Triflex DeckCoat system. The system is unaffected by ponding water and is resistant to chlorides (road salts), carbon dioxide ingress, petrol, diesel, brake fluid, engine oil, battery acid, and de-icing and cleaning products. Protection that's built to last, with a low lifecycle cost.
Tried and tested
Triflex DeckCoat offers a complete waterproof, protective coating solution for refurbishment and new-build projects that will last for years to come. The Triflex DeckCoat system is not only highly certified and tested to UK and European standards, it has also been successfully installed for more than 15 years in projects across the globe.
Rapid curing, cold applied system
Exceptionally fast curing, Triflex systems allow car parks to remain open during installation, limiting access restrictions and unnecessary disruptions. Installation can be carried out all year round and the system still cures quickly at temperatures down to 0°C. There is no risk from hot works during installation as all Triflex materials are applied in a totally cold liquid form, quickly curing to create a solution that lasts.
Anti-skid
The system offers high levels of long-term skid resistance in wet and dry conditions, providing a secure and safe solution for both vehicles and pedestrians.
Safety and environmental
Our solvent and isocyanate free resin technology has been assessed under BREEAM principles and can contribute to A+ ratings, and to minimise environmental impact the majority of the components are supplied in recyclable bulk containers.
Versatile design
Available in a wide range of standard and bespoke colours and finishes, Triflex DeckCoat enhances aesthetics for maximum visual impact.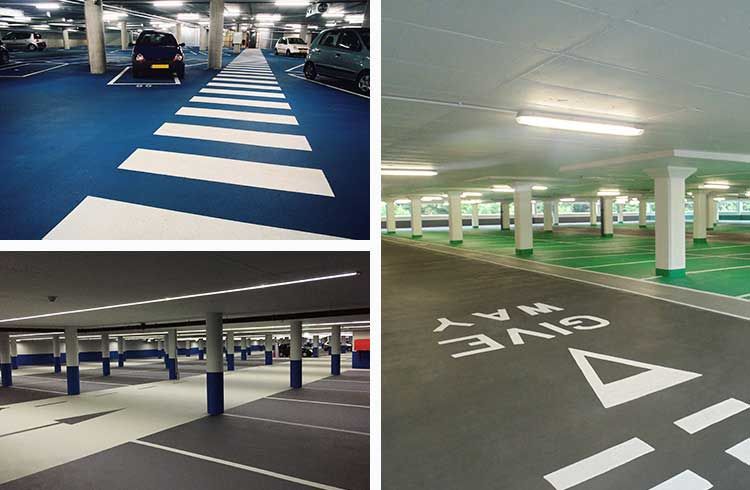 Internal concrete car park decks and ramps over parking
Ground bearing concrete car park decks and ramps
Concrete, concrete repair materials and screeds
Existing membranes
Cast in situ concrete
Permanent formwork with in situ concrete
Precast concrete planks with or without structural topping
Precast double tee units with or without structural topping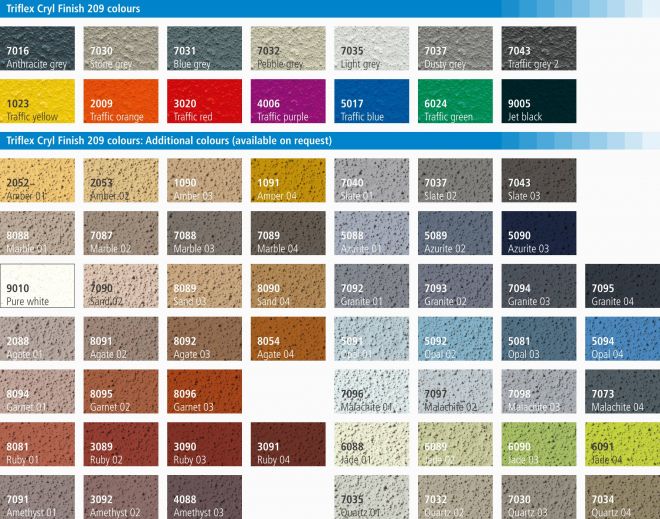 Triflex DeckCoat is available in a range of finish colours allowing the system to be tailored to meet aesthetic and project needs with special colours being produced to order.
For full details on the range of colours and finish options download the Triflex DeckCoat colour card below.
Request a sample
Triflex DeckCoat is also the ideal solution to waterproof and surface internal car park ramps over occupied premises. The Triflex DeckCoat system is not only highly certified and tested to UK and European standards, it has also been successfully installed for more than 15 years in projects across Europe.
Triflex installations are carried out through our network of Authorised Contracting Partners, if you are already authorised you can place an order by emailing orders@triflex.co.uk. Alternatively if you looking for an installer in your area, click here to find your local Business Development Manager, who will be more than happy to discuss your requirements and provide you with a list of suitable contractors.
Find your local support
Fully certified to the highest UK and European standards and classifications, including:
EN 1504-2 certified (full system)
Fire performance
Manufacturer certification
ISO 9001 Quality Management
ISO 14001 Environmental Management
ISO 50001 Energy Management