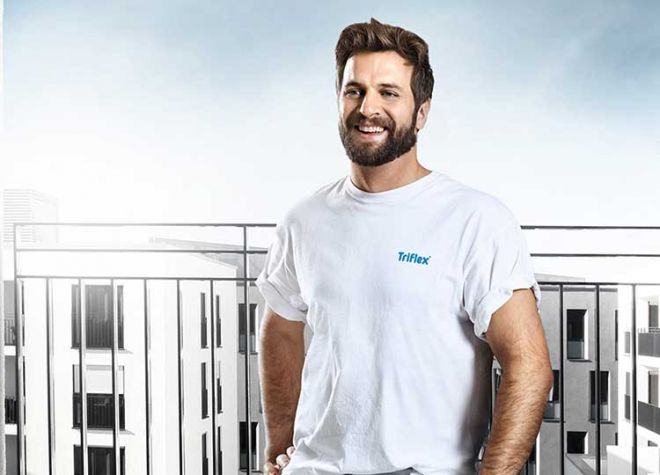 Imagine a waterproofing and surfacing solution that can create a large-scale waterproof membrane in as little as a day, is quick and easy to apply using only rollers and brushes, is cold liquid applied with no requirement for the use of hot works, can be used to overlay existing substrates minimising waste and speeding up installation and can be installed at any time of the year. At Triflex that's exactly what our solutions are designed to do, and we've been doing it for over 40 years.
Unlike many alternatives, you can use cold liquid applied waterproofing without the need for hot works, meaning there is no fire risk during application. This also allows buildings to remain open during installation, removing any need to disrupt occupants. In addition, all Triflex resins are solvent and isocyanate free, so there are no hazards to the building's occupants or the installer.
Concerned about waterproofing around complex details such as cable runs, PV solar panels, air conditioning equipment? It's not a problem when you use Triflex liquid solutions which are easily applied using a roller and brush to form any shape. Better still, our solutions can be rainproof in as little as 30 minutes, trafficable after 45 minutes and fully cured in just an hour, at temperatures down to -5°C.
With wide-ranging systems ideally suited for all sorts of projects, whether it be roofs, car parks, walkways, balconies, terraces, ramps or stairwells, we have a solution that makes your job easier, your company more profitable and will leave your customer delighted.
Looking for an Authorised Contracting Partner?
Our systems and solutions are only sold to and installed by Triflex Authorised Contracting Partners. This ensures that your project receives a lasting high-quality solution. If you are looking for a Triflex Authorised Contracting Partner in your area please get in touch.
To ensure the highest quality of installation, our systems are only installed by authorised installers. As a Triflex Authorised Installer, you will have access to the best in-house training facilities and techniques and our extensive knowledge of the market, built over 40 years right across Europe.
As a Triflex Authorised Installer, we will work closely with you from day one.  We can help you to generate business, and provide all the help you need to turn leads into paying customers. We will make sure that you get the right solution for your customer when you and they need it, and we can deliver directly to the site.
And if you're responsible for a design and build project we can support you and ensure you get the specification spot on. Our service includes:
Training.

We'll give you all of the knowledge you need to work with Triflex materials at the start and if you need additional training on new systems in the future, we'll be by your side
Consultation. We will listen and work with you towards a solution that meets all of your customer's protection, safety and aesthetic needs

Survey.

Our technical team carry out an in-depth condition survey
Testing. If needed we will undertake core, adhesion, cohesive strength and other testing to ensure your project goes right first time
Specification proposal. After evaluating your project, we will provide a bespoke project specification proposal for you

Pricing.

Our easy to use pricing calculators will be available to you, helping you to price up your job effectively

Delivery to site.

  Arrive on site knowing that everything you need will be there
Installation. We provide on-site support and quality control and can be there to attend on-site meetings with your client
Warranty. Our solutions are underpinned by meaningful warranties backed by insurance
Whether you have been subcontracted for the project or are involved from day one with the specification, we will help you apply the right solution for your customer.
Whether your next project needs a waterproofing and or resurfacing solution for a roof, balcony, car park or a walkway, we can provide you with a long-term solution to make sure that your customer is happy now and in the future.
Durable, long-term structural protection backed by warranties
Can be applied at any time of year and there is no need to close down your customer's facilities
Cold liquid applied – no fire risk during application
Rapid curing of just 45 minutes, whatever the time of year or external temperature
Wide range of solutions available in different textures and colours
Very low health and safety risks
Delivery of your solution direct to site
Pricing calculators to help you during tendering
On-site quality control advice
Can normally be applied over the top of existing solutions so no skips and no landfill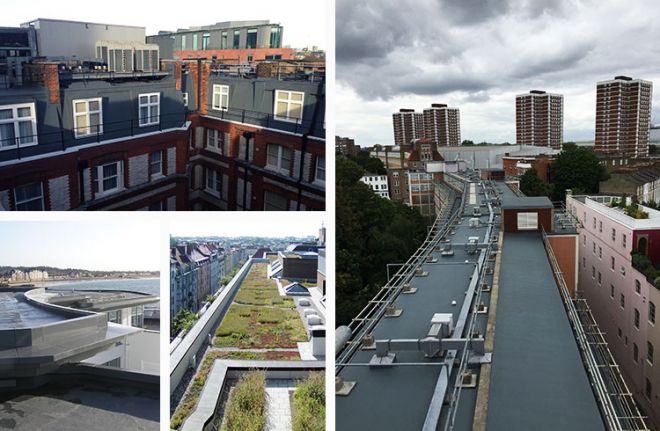 Whatever the time of year Triflex cold applied liquid waterproofing solutions are easy to apply using a roller and brush.  It covers even the most complicated details on a roof to provide a reliable long-term solution for your customer. Better yet, you can rest assured as Triflex systems have no requirement for hot works.
Find out more about our roofing solutions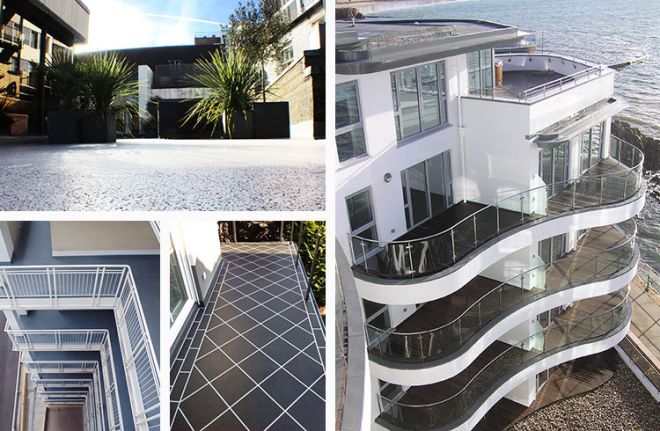 Walkway, balcony and terrace solutions
The quick application and wide range of surface colours and finishes leaves you with a happy customer whose walkway, balcony or terrace is protected for years to come. Our wide-ranging systems allow your customer to tailor their project, with over 50 standard colours available, bespoke colours on request and 4 finish options. Lastly, Triflex Creative Design allows the use of stencils and motifs for a truly unique design.
Find out more about our walkways, balconies and terraces solutions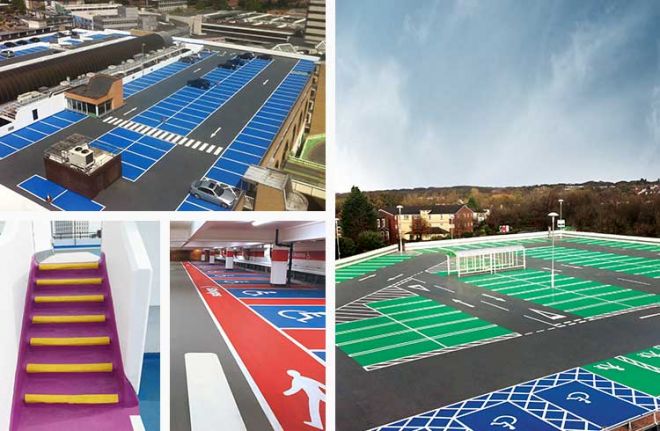 Our liquid applied waterproofing systems protect the top and intermediate decks from mechanical and chemical loads, guaranteeing long-term, reliable waterproofing. The solutions are quick to apply, so closure periods are short: parking decks, ramps and entrance roads can be driven on again after just a few hours.
Find out more about our car park solutions