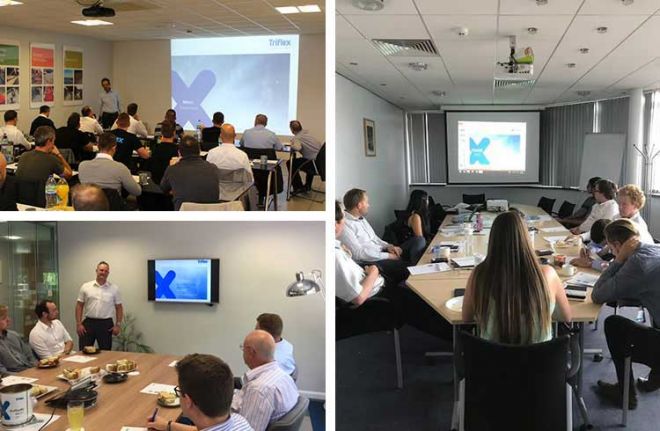 Cold liquid applied waterproofing, surfacing and protection systems have enjoyed significant growth in recent years. From our position as European market leaders and with over 40 years experience we are pleased to offer CPD seminars to introduce you to their benefits. We have a range of CPDs designed to introduce specifiers to our systems and key considerations when specifying. Presented by our experienced Business Development team, our presentations provide insight into the benefits of cold liquid applied technology and why it is now the preferred solution for both refurbishment and new build applications.
Triflex technical seminars last approximately 45 minutes to 1 hour in duration and can be conducted at a time and place suitable to you and your colleagues. All attendees will receive a certificate confirming attendance and a full suite of Triflex literature. Sample swatches are also available on request.
Intelligent roof protection and Living life outside
The reasons to specify Triflex are plain to see, but our Intelligent roof protection and Living life outside CPD will help to answer any questions and explain why Triflex are market leaders in waterproofing and protection systems for roofs, walkways, balconies and terraces.
To apprehend and prevent the common causes of flat roof and walkway, balcony and terrace failure in traditional waterproofing methods, while increasing the speed and workability of installation.
A brief introduction to Triflex
The chemistry of cold, liquid applied waterproofing systems
The benefits of resin technology
Traditional materials and the common causes of flat roof failure
The versatility of cold, liquid applied waterproofing solutions in roofing, walkway, balcony and terrace applications
Pre and post contract support
Creative car parks
To understand and prevent the most common causes of car park failure in structures, while increasing safety, security, accessibility and the overall impression a car park can bring to a business and its users.
The importance of looking after your car park and common causes of car park failure
The chemistry of cold, liquid applied waterproofing systems
The benefits of resin technology
The versatility of cold, liquid applied waterproofing technology in multi-storey and surface car parks
Pre and post contract support