External stairs and stairwells are vulnerable to water, mechanical and chemical damage as they are not only open to the elements but are also susceptible to added downforce pressure from foot traffic, particularly at nosings. It is essential that these areas when over occupied spaces are reliably waterproofed and surfaced with a robust system to protect the integrity of the structure and contents beneath and to provide a safe and secure environment for users.
Featuring a combination of reliable waterproofing, highly durable surfacing on the treads and proprietary or resin based edge nosings, Triflex StairCoat Reinforced offers the perfect long term protective solution. The system is ultra fast curing and cold liquid applied, allowing installation to be completed quickly, without the use of hot works, and with minimal impact on users.
Dynamic crack bridging, fully reinforced, cold applied system
Triflex lead from the front. Featuring unique resins with enhanced elastomeric properties and high tensile strength fleece reinforcement, we deliver a totally waterproof solution that can accommodate movement and cracking within a structure. There is no risk from hot works during installation as all our materials are applied in a totally cold liquid form, curing to create a solution that lasts.
Fast curing with rapid installation
Rapid curing and easy to install, Triflex allows buildings to remain occupied during installation, limiting access restrictions and unnecessary disruptions to everyday life. Installation can be carried out all year round and the system still cures quickly at temperatures down to 0°C.
Asphalt overlay
Many stairs and stairwells have historically been waterproofed using asphalt which over time will fail. With more than 30 years' experience, Triflex StairCoat Reinforced is the ideal solution for directly overlaying failing asphalt. In fact, whatever the substrate, we can provide a quick, easy and reliable overlay solution.
Safety and environmental
The solvent and isocyanate free resin technology has been assessed under BREEAM principles and can contribute to A+ ratings. The levels of skid resistance of a number of the finish variants make these particularly suitable for high risk, frequently trafficked areas.
Versatile design
Available in either Quartz Design or Chips Design these system variants offer different textures and surface finishes, combined with over 50 standard colours the system can be tailored to meet aesthetic and project needs.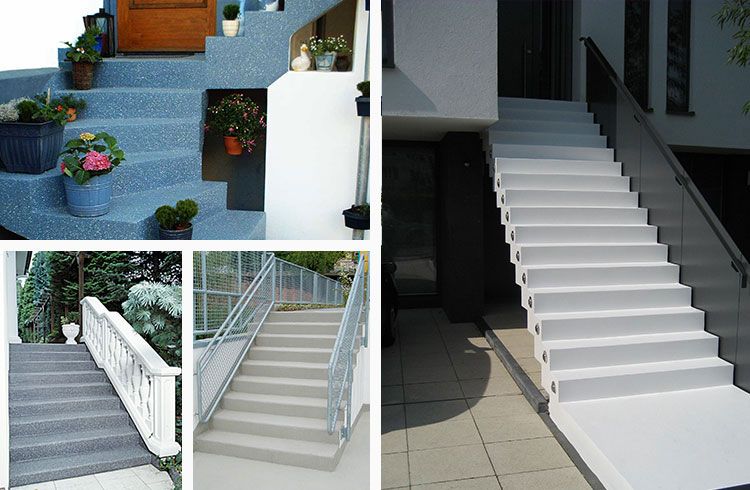 External stairs and stairwells over occupied premises
High risk areas subject to significant levels of structural movement and cracking
Concrete, concrete repair materials and screeds
Asphalt and polymer modified asphalt
Existing membranes
Steel
Structural plastics
Timber
Cast in situ concrete
Permanent formwork with in situ concrete
Precast concrete planks with or without structural topping
Precast double tee units with or without structural topping
Steel / galvanised steel / structural plastic / timber constructions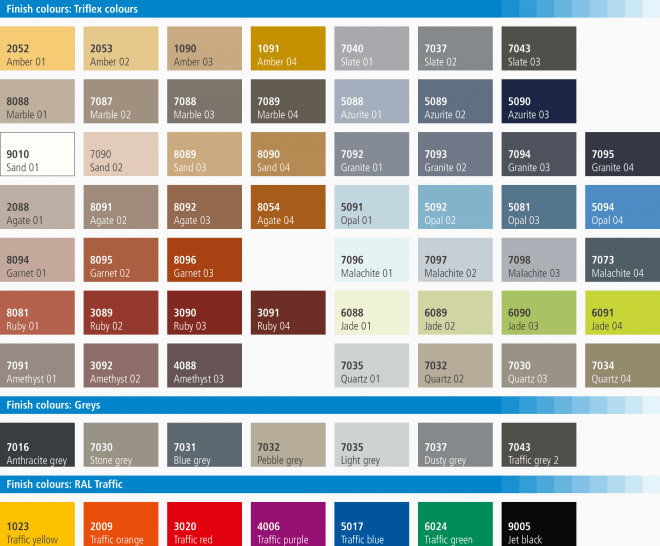 Triflex StairCoat Reinforced is available in a range of over 50 finish colours and 2 finish options, the system can be tailored to meet aesthetic and project needs with special colours being produced to order.
For full details on the range of colours and finish options download the Triflex StairCoat Reinforced colour card below.
Request a sample
Triflex installations are carried out through our network of Authorised Contracting Partners, if you are already authorised you can place an order by emailing orders@triflex.co.uk. Alternatively if you looking for an installer in your area, click here to find your local Business Development Manager, who will be more than happy to discuss your requirements and provide you with a list of suitable contractors.
Find your local support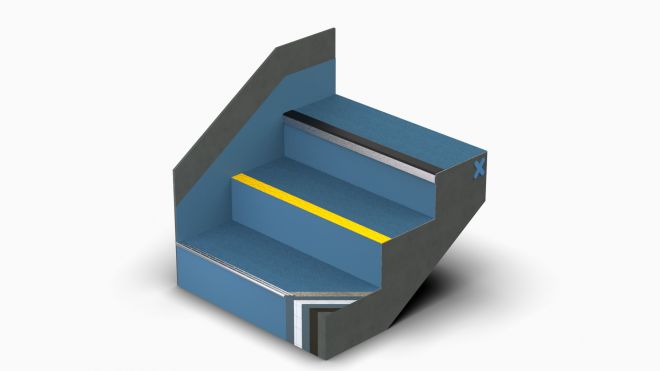 Triflex nosings are available in both resin and fabricated form and provide additional safety to a stair or stairway. By installing nosings onto the nose of each step, they help to clearly define the edge of the steps reducing the risk of falls, while protecting the edges further from potential wear and tear from heavy traffic.

Fully certified to the highest UK and European standards and classifications, including:
ETAG 005 certified (localised waterproofing membrane)
25 year expected working life
Fire performance:
EN ISO-11925-2
EN ISO-9239-1
EN 13501-1
Manufacturer certification
ISO 9001 Quality Management
ISO 14001 Environmental Management
ISO 50001 Energy Management