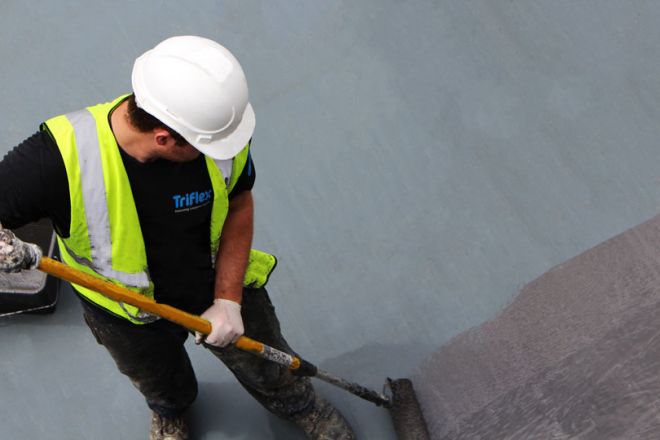 The original liquid waterproofing and surfacing experts
Triflex is the leading European specialist in cold liquid applied waterproofing, surfacing and marking resins. Our high-quality systems provide reliable and lasting waterproofing, surfacing, protection and markings for roofs, walkways, balconies, terraces, car parks, roads and infrastructure. We are a family owned and operated company that provides tailored solutions worldwide. From our production facilities based in Minden, Germany, we have been researching and developing solutions designed to protect and repair the built environment for more than 40 years.
From our UK and Ireland headquarters based in Stone, Staffordshire we pride ourselves on providing our clients with tailored solutions and exceptional levels of service and support throughout all stages of their project. From conducting in-depth site surveys to our comprehensive testing and off-site and on-site support, we ensure that your project is completed expertly. Triflex solutions are certified to the highest standards and are backed up by long-term meaningful warranties, ensuring peace of mind for years to come.
Advanced resin technologies
Triflex cold liquid applied systems are based upon the most advanced polymer chemistry and are designed to deliver long-term security and protection.
The most frequently used polymer liquid resins in the construction industry are based on polyurethane (PU), epoxy (EP), polyurea (PUA) and polymethyl methacrylate (PMMA). Triflex manufactures resins using all of these technologies, however, the majority of Triflex resins are based on the most advanced PMMA technology, with other resin technologies used for more specialist applications, or to fulfil specific requirements.
The primary benefits of Triflex PMMA resins are based around the fact that our systems are fully cold applied and rapidly cure, even at very low temperatures allowing:
Areas to be treated quickly, minimising time on site
Access restrictions to be minimised as Triflex systems can be trafficked shortly after installation
Short 'rain proof' times, allowing weather windows to be maximised
All-year-round application
Confidence that the areas completed are secure and risk-free
Other PMMA benefits:
Solvent free
Isocyanate free
Hydrolysis resistance - Resistant to standing and ponding water
UV resistant
Highest levels of inter layer adhesion - (strongest chemical bond between application layers)
Able to be applied at high humidity levels
Able to withstand chemical and mechanical loads
Triflex waterproofing, surfacing and protection systems along with our marking and repair products are recognised throughout the world for their impeccable track record and performance under extreme conditions. Triflex is not only renowned for its high-quality waterproofing and protection solutions, but also for the exemplary level of service we provide.
All Triflex systems are manufactured under the international ISO 9001 Quality Management, ISO 14001 Environmental Management and ISO 50001 Energy Management standards ensuring that Triflex products meet our customers' quality requirements and comply with relevant regulations.
The security offered with Triflex:
Continuous quality control during the production process, including external monitoring (BBA and other certification bodies)
Sophisticated test phases for all systems prior to market launch
Investment in the most advanced test equipment to allow in-house testing to industry standards, ensuring continued innovation and improvement
Triflex solutions are underpinned by meaningful warranties backed by insurance, demonstrating the confidence in our systems.
Triflex waterproofing and surfacing systems have been successfully used on thousands of projects. From car parks to balconies, from retail parks to schools, refurb or new build. Simply put, we are the experts, however big or small your project might be.
Accreditations and associations
Clients we are proud to have worked with
Below is a short selection of our clients with whom we've worked with across the UK, from large multi-nationals to regional based businesses. We are proud to have assisted each and every one, ensuring that they found the right waterproofing, protection and surfacing solution, protecting their assets for the years to come.
Click on the link to see our current job vacancies, if there are no listings then we don't have any vacancies at the moment.