Roofs are most vulnerable to water ingress at the details, so it is essential that these interfaces are reliably waterproofed to protect the structure and contents beneath.
The BBA and ETA certified Triflex ProDetail is the proven, reliable solution for the fast and easy seamless waterproofing of virtually all details, including upstands, gutters, cut edge corrosion and roof penetrations. The fully reinforced system is ultra fast curing, even at temperatures down to -5°C, allowing installation to be carried out all year round in a simple, single process application. Tried and tested on more than 1,400 substrates and certified to the highest standards, it is easy to see why this versatile and long-lasting solution is the number 1 detail waterproofing solution in Europe.
Triflex ProDetail can be used stand-alone, in combination with other Triflex waterproofing, surfacing and protection systems and in combination with other waterproofing technologies.
Waterproof down to the smallest detail
Suitable for the secure waterproofing of upstands, gutters, penetrations, joints and much more, Triflex ProDetail is compatible with virtually all substrates and can be used to waterproof the most simple to the most complex of details.
Cold applied, fast curing with rapid installation
Rapid curing and easy to install, Triflex allows details to be waterproofed seamlessly and quickly with the waterproofing being rainproof in just 30 minutes and cured in as little as 45 minutes. Installation can be carried out all year round and Triflex ProDetail still cures quickly at temperatures down to -5°C. There is also no risk from hot works during installation as all Triflex materials are applied in a totally cold liquid form, curing to create a durable solution that lasts.
Single process application
Triflex ProDetail is applied in a simple, single process and offers significantly reduced installation costs compared with multi-coat solvent-based systems, and eliminating the risks of inter-layer adhesion issues. Triflex ProDetail has a thixotropic formulation as standard, allowing it to be used on vertical surfaces straight from the drum.
Self-terminating
With Triflex there is no need for termination bars as Triflex systems are fully self-terminating. By forming such a strong bond with the substrate, and thanks to its flexibility and fleece reinforcement, the system leaves no opportunity for water to permeate behind.
Fully reinforced technology
The Triflex ProDetail system combines a unique highly flexible resin with a special high tensile strength polyester fleece. The system is proven to accommodate high levels of movement and cracking and differential movement between different substrates. Proven fully reinforced waterproofing technology that stands the test of time.
Tried and tested
Triflex ProDetail offers a complete detail waterproofing solution that will last for years to come. The system is not only certified and tested to the highest UK and European standards, it has also been successfully installed for more than 20 years in projects across the globe.
Triflex ProDetail was the first liquid applied detail waterproofing system to be certified under ETAG 005 and was the first product of its type to be CE marked in Europe
Tough and durable protection
The standard Triflex ProDetail system is designed for foot traffic and provides exceptional puncture resistance when compared to many alternative materials.
With high levels of chemical resistance, the system is suitable for industrial applications including bunds.
The complete solution
Triflex ProDetail is not only a proven stand-alone system but is also used in conjunction with other Triflex systems and other waterproofing technologies to provide a complete waterproofing solution.
Colours and finishes
Create a design to meet your aesthetic or safety requirements with a wide range of colours and two optional finishes - refer to Triflex colour card.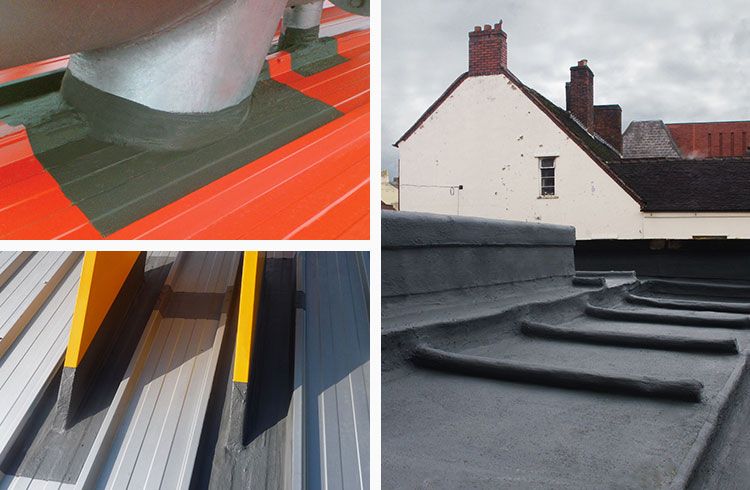 Upstands
Parapets
Cappings
Plinths
Gutters
Gutter joints
Drips
Rooflights / Sun-pipes
Hatches
Outlets
Laps / seams
Joints
Penetrations
Metal roof cut edge (end lap) corrosion
Felt
Asphalt
Bitumen
Single-ply membranes

(e.g. PVC, PVC-P, EPDM, EVA, TPO, FPO, TPE, CPE, PIB, VET etc.)

Cementitious materials (concrete, brickwork, masonry)
Metals and coated metals
Plastics
Coatings (e.g. polyurethane, polyurea, polymethyl methacrylate)
Solar reflective coatings
Glass
Plastics
Timber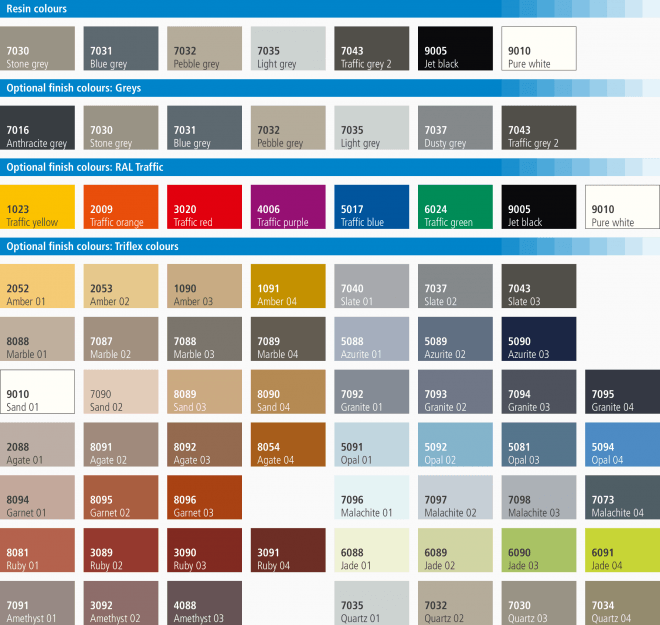 Triflex ProDetail is available in a wide range of standard resin colours and optional finish colours, allowing the system to be tailored to meet aesthetic and project needs with special colours being produced to order. For full details see the Triflex ProDetail colour card below.
Request a sample
Triflex installations are carried out through our network of Authorised Contracting Partners, if you are already authorised you can place an order by emailing orders@triflex.co.uk. Alternatively if you looking for an installer in your area, click here to find your local Business Development Manager, who will be more than happy to discuss your requirements and provide you with a list of suitable contractors.
Find your local support

Fully certified to the highest UK and European standards and classifications, including:
BBA certified: 
Durability: Under normal service conditions the system will provide a durable roof waterproofing with a service life in excess of 25 years
ETAG 005 certified:
Highest classification in all criteria including W3 – 25 year durability
Fire performance:
BS 476-3 (EXT.F.AA)
EN 13501-5: Class BROOF (t1) / (t2) / (t3) / (t4)
EN 13501-1: Class E
Root and rhizome resistant:
FLL Certified: Root and rhizome resistant
EN 13948: Resistant to root penetration
Manufacturer certification
ISO 9001:2015 Quality Management
ISO 14001:2015 Environmental Management
ISO 50001:2011 Energy Management