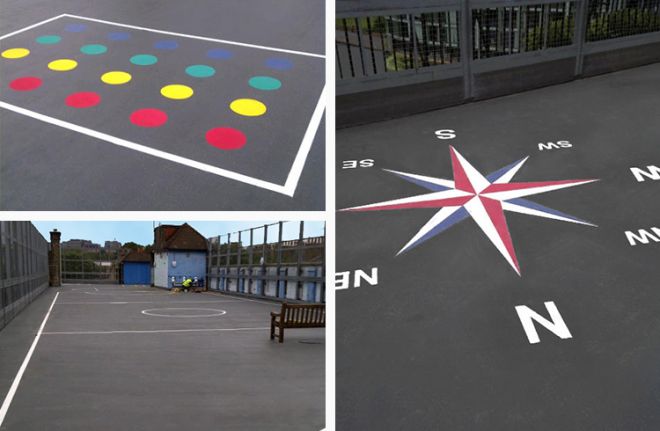 Triflex are Europe's leading specialist manufacturer of cold liquid applied waterproofing, surfacing and protection systems and have a proven track record of providing pupils with a safe, secure and inspiring learning environment.
Statistics from the Department of Education earlier this year stated that almost 40,000 primary school pupils are currently being taught in classes of more than 36, while 15,000 are in classes of 40 or more.
There is a limit to how far existing schools can expand. Many are already using school halls, music rooms and gyms for classrooms and building over their playing fields to accommodate extra children.

Mary Bousted, General Secretary, Association of Teachers and Lecturers
Where precious green space is sacrificed and the pressure for more teaching facilities rises, children's play areas to relax between classes can become increasingly limited, particularly for schools in built up areas. To cope with surging numbers and crowding, some schools have resorted to building roof top playgrounds to ensure their pupils have the outdoor space that they need whilst maintaining teaching facilities.
Triflex understand that the importance of play should not be underestimated, and have developed a number of proven solutions that are specifically designed for the waterproofing and surfacing of new build rooftop playgrounds as well as the refurbishment of existing rooftop playgrounds.
Hanover Primary School is one example of the exceptional and innovative work that Triflex can provide for your educational facility. The existing roof top playground underwent a major refurbishment as certain areas were showing signs of significant deterioration and the safety of the playground had become a concern. Due to its excellent substrate compatibility properties, Triflex systems could be directly applied to the existing asphalt playground, causing minimum disruption, and saving the school any costs associated with membrane removal. Due to our excellent and almost limitless colour and design possibilities, we were able to provide the school with new permanent playground markings, much to the children's delight, including a football pitch and a basketball court.
Triflex has established a recognisable relationship with schools, academies, universities and other educational facilities across the UK and Europe. With our educational understanding, technical expertise and network of authorised contractors, we can ensure long term durable and innovative playground design – even if it's on your roof!
Rooftop playground in action