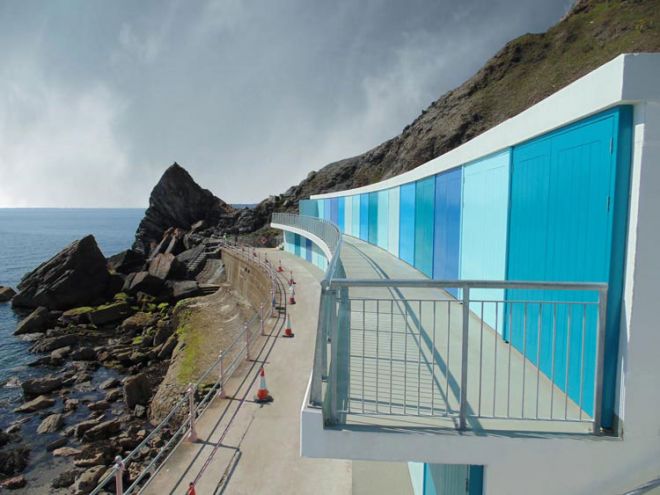 Unbeatable views, idyllic beaches and picturesque seaside towns are just a few of a long list of reasons why people want to live by the coast. Some studies have found that the relaxed pace of life that living by the sea offers can even lead to better health. With statements like these, can homes by the coast ever lose their appeal? Probably not. However while coastal properties come with an extensive list of rewards, they also take a beating from the elements.
Great Britain is an island notorious for its rainy reputation and whilst some Brits may feel this is exaggerated, heavy downpours, strong winds and in extreme cases, hurricane force storms are no laughing matter.
March 2016, saw storm Katie unleash hurricane force gales and torrential downpours throughout Britain. One well established public house was victim to the storms devastation, resulting in the roof being completely destroyed and the debris falling onto a public pathway below. In the popular coastal town of Gosport, Hampshire one home owner suffered as their entire felt flat roof was ripped off by the wind. In February 2016, Cape Cornwall Primary School in St Jude was evacuated after gale force winds from storm Imogen caused part of the sea facing roof to collapse into the main building. These are just a few examples of how residents, businesses and schools have been affected by our turbulent coastal weather conditions.
Much of the damage caused to the roofs in coastal areas is the result of wind uplift forces that are created during these extreme weather conditions. When there is no wind, the air pressure on the upper surface of the roof system is effectively the same as that underneath it, however, as wind flows over the building, the pressure directly above the surface of the roof decreases. At the same time, internal air pressure can increase inside the building due to air infiltration through open doors and windows. The result of this change of equilibrium is a net upward force on the roofing structure called wind uplift. If wind uplift is significant enough this can result in damage to the roof, ranging from minor defects to entire roofs being torn off. The effects of this destructive force can be minimised through intelligent roofing design and the specification of the correct waterproofing system.
Naturally, residents and building owners want their homes and premises to look good, but keeping occupants, families and employees safe, warm and sheltered from the elements is a top priority.
Specifying the perfect roof waterproofing solution for any construction project is always important, but making the correct decision for a coastal building which will often be subject to greater environmental influence and higher wind uplift, is even more critical.
Roof waterproofing systems which are fully bonded and have excellent adhesion to the substrate below are considered less risk than partially bonded or mechanically fixed systems. Therefore specifying a seamless, fully bonded, durable roof waterproofing solution with excellent adhesion and substrate compatibility are vital to minimise the risk of failures that can be caused by wind uplift.
Cold liquid applied waterproofing systems are the fastest growing technology in the roof waterproofing industry. Applied as a liquid, they mould themselves to the substrate, and once cured offer a completely seamless surface without overlapping joints. With their exceptional adhesion levels and substrate compatibility, and the added advantage of all year round application, they are an ideal way to reduce the risks of wind uplift and withstand other abusive elements that coastal regions have to offer.
In addition to properties beneficial in reducing wind uplift risk, cold liquid applied roof waterproofing solutions are typically chloride resistant which is particularly important in coastal regions. Steel and concrete buildings located on the coast are continually subject to chlorides in sea salt saturated water in the atmosphere which originates from breaking ocean waves. These chlorides can be extremely damaging as they can accelerate corrosion of exposed steel and steel within the reinforced concrete, both of which are unsightly and expensive to repair.
With most manufacturers offering long term, meaningful warranties, cold liquid applied waterproofing solutions deliver an extremely robust and durable finish. When specifying a roof waterproofing system in coastal areas, it is clear that cold liquid applied waterproofing solutions offer significant advantages.
Take a look at the case study