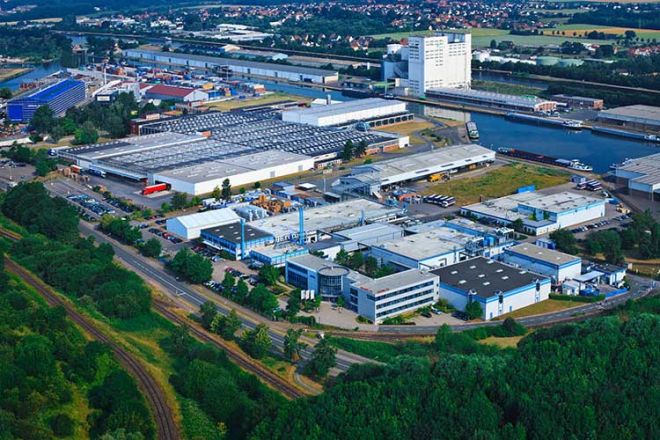 2016 will be seen as a significant year in the history of Triflex given that construction work on a new state-of-the-art manufacturing facility commenced in April. The €30 million investment at the company's site in Minden, Germany underpins the continued growth of Triflex as one of Europe's premier manufacturers of cold liquid applied resins for waterproofing, surfacing and protection.
The 7800m² facility will see the production capacity of Triflex resin based products increase initially to 45,000 tonnes per year, allowing the company to meet the future market demands of the developing cold liquid applied industry across Europe and in the UK. Scheduled for completion in early 2018, the plant will house raw materials, production, quality control, and Research and Development in one dedicated structure.
Over 100 people from both political and commerce backgrounds joined Dr Henrik Follmann, CEO of Triflex, in April 2016 as the foundation stone was laid for the new building.
The project will help drive forward the growth of Triflex and also allow us to strengthen our position at the forefront of the market for PMMA resin technology for the future both nationally and internationally.

Dr Henrik Follmann, Managing Director, Triflex GmbH & Co. KG
With the most advanced processing technology and two large scale, fully automated filling lines, production times will be reduced and efficiencies maximised. Flexible manufacturing processes will also allow Triflex as a business to more rapidly respond to ever-changing international market needs and requirements.
Triflex employees in the UK are understandably thrilled by the latest in a string of new investments over the course of the last few years which between 2011 and 2017 will total approximately €60 million.
Although our current primary focus is on rapid curing PMMA resin technologies this is just one of the range of chemistries we currently manufacture. The new facility has been designed to be future proof, allowing production of the widest range of construction chemicals side by side using state of the art equipment and technologies. This level of security can only be achieved through such a large scale, forward looking investment strategy.

Paul Barker, Director, Triflex (UK) Ltd.
The facility will be the most advanced manufacturing plant of its kind in Europe and through a closer link between Research and Development and production, and unique production methods, Triflex will be in a position to develop a range of even more advanced solutions to protect the built environment.