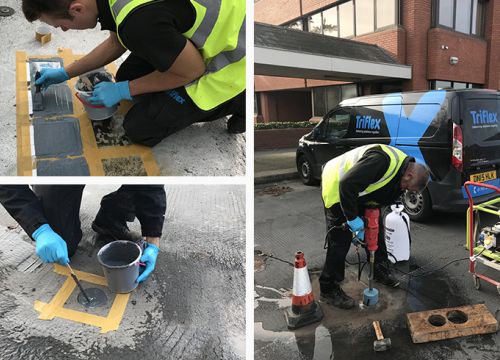 We understand that you want to find the best value, properly engineered and most effective solution for your project and our aim is to help you achieve this. All our clients receive the same level of technical service, support and backup from the initial enquiry right up to delivery of your completed project. In fact, we pride ourselves in offering the best level of service in our industry, that's why our motto is 'Delivering solutions together'.
Technical services during the design stage
Site surveys and core sampling
System and product samples
On and off-site adhesion testing
Laboratory compatibility testing (where required)
Recommendations on our most suitable system for the project
Bespoke project specification proposal
Production of project specific CAD details
Car park specific services:
On-site samples
Recommendations on the most suitable car park waterproofing system for the project
Budget costings
Specimen warranty details
Rendered visualisations (on request, a charge may apply)
On-site support
Once your project commences we will be on hand to provide
On-site support
Site visit reports
Attendance at site meetings, as required
Testing and monitoring
Provision of Health and Safety data for the Operation and Maintenance manual
It is our aim to work closely with all parties engaged in a given project, ensuring a finished product in which the client can have total confidence.