The trick is to keep water out
Moisture is the root cause of almost all mechanisms that damage mineral building materials. The porous nature of many substrates allows water and dissolved contaminants to penetrate via capillary suction into the pores. This may cause various problems such as corrosion of reinforcing steel, salt burst, or freeze-thaw damage.
There is no doubt that by preventing water ingress into a structure, damage is drastically reduced. But the key question is how?
Treatment with water repellents – called "hydrophobation" - using Protectosil® building protection products is unique. Protectosil® water repellent products penetrate deep into the substrate. They keep water out and maintain the substrate's water vapor permeability.
By contrast, film-forming coatings may block the pores of the surface. The large molecules in polymeric water repellent coatings seal the pores of the substrate and may stop it from breathing.
Is specially suited for the water repellent impregnation of mineral construction materials in outdoor areas
Is highly reactive and resistant against alkaline environments
Reaches very high penetration depth
Generates water vapour permeable, colourless impregnation
Reduces significantly the uptake of water and soluble salts (e.g. chlorides)
Protects hairline cracks of up to 0.3mm
Is supplied ready to use
Is also recommended as waterproofing under coatings or other surface protection treatments
Conforms to TL/TP OS-A of ZTV SIB 90 standards set by the German Federal Transportation Ministry and to the EN 1504-2
Can be used according to principles 1, 2, 5 and 6 of EN 1504-9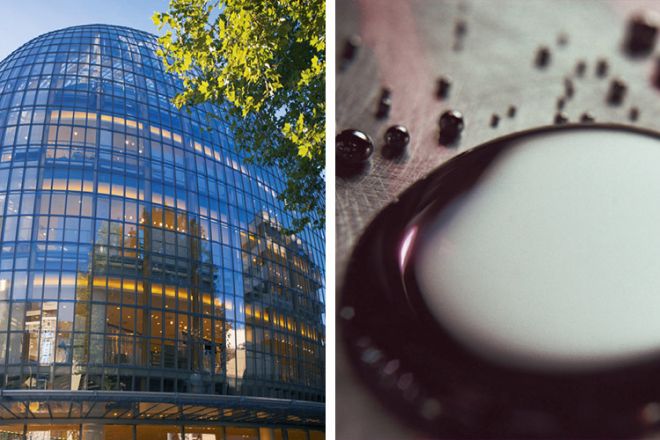 Depth hydrophobation for optimum protection
Protectosil® water-repellent molecules are smaller than the pores of the substrate. Due to this and the low viscosity, they penetrate deep into the building material and chemically bond to the inner pore walls, rendering the substrate hydrophobic. External water is kept from entering the pores, while water vapour generated from within the structure can still escape. The structure remains breathable. The following is a simplified illustration of this.
The deeply penetrating protection has two major advantages: Neither UV radiation nor mechanical wear can erase and thus weaken the Protectosil® protection. Silicones and siloxanes, due to their molecular size of >20 nm, do not penetrate and may be weakened by environmental stress.
Critical for efficient hydrophobation is the use of low-viscosity high-efficiency molecules. Protectosil® uses liquid, monomeric alkylsilanes to create an internal barrier which prevents water from penetrating into the substrate. These molecules penetrate the substrate and chemically bond to it. This has various advantages:
Protectosil® water repellents offer deep protection which is not affected by UV exposure or abrasive load (e.g., traffic).
Protectosil® maintains the water vapor permeability.
Protectosil® hydrophobation products do not change the surface appearance of the substrates, so paints can still be applied.
As Protectosil® hydrophobation creates a deep barrier against water, the efficiency of Protectosil® is not measured by the beading effect of the surface. It is measured by the reduction of water uptake. Non-destructive testing can be carried out on existing buildings using a Karstens (or Rilem) tube. Another possibility is to take drill cores and to visualise the penetration depth with water based inks.
Properties and test methods
Value
Unit
Method
Active solids
98-100
%
-
Solvent
Solvent free
-
-
Flash point
63
°C
DIN EN ISO 2719
Density (°C)
0.88
g/cm

³

DIN 51757
Viscosity (°C)
0.95
mPa's
DIN 53015
Boiling point
approx. 186
°C
DIN 51751
Refractive index
1.40
 
DIN 51423
Registration
EINECS/ELINCS (EU)
Application details
| Suitable substrates | Approximate consumption - Mode of application |
| --- | --- |
| Concrete | min. 150 g/m² - Low pressure pumping |
| Clinker masonry | min. 150 g/m² - Low pressure pumping |
| Ceramic tiles | approx. 100 g/m³ - Low pressure pumping |
Protectosil® is a registered trademark of an Evonik Industries group company.
Triflex has an exclusive agreement with Evonik for the supply of Protectosil® BHN and other Protectosil® products with Triflex systems and on Triflex projects.
Triflex has carried out extensive compatibility testing with Protectosil® CIT and Protectosil® BHN and unlike the majority of competing products can apply the vast majority of Triflex systems directly over Protectosil® treated concrete without the requirement for additional preparation. This saves both time and resources on site, avoids removing concrete cover and importantly any of the Protectosil® which has been applied.