A warm roof system where the primary insulation layer is placed above the structural deck can offer numerous advantages over cold roof and inverted roof solutions. When properly engineered they can be a simple, cost effective solution that can help save energy, the building occupier money and solve problems such as condensation. There are however some pitfalls for the unwary, so it pays to choose your supplier with care as they can help you get it right first time.
Here are our 6 top tips to ensure you get the right solution.
In some cases, it may not be in the owner's interest to add additional insulation to the roof. In England, the requirement to insulate is prescribed under Part L of the Building Regulations.
In simple terms, under the Building Regulations where a new waterproofing layer is added solely as a means of repair to an existing flat roof there is no requirement to add additional insulation. If the work involves, stripping the roof and replacing elements there is no need to add additional insulation provided:
The amount to be stripped and replaced is less than 50% of the total roof area, or;
The overall renovation is less than 25% of the building envelope, or;
The calculated payback of the additional investment is greater than 15 years, or;
It is not technically, functionally or economically feasible – for example, it may not be cost effective due to the cost of raising thresholds, parapet walls etc.
Ultimately local Building Control will be in the best position to provide detailed guidance but to save time and costs your supplier should be able to advise whether or not you need to insulate and if you do what you need to do to comply with the Building Regulations.
Is condensation an issue?
In a warm roof construction, the placement of the insulation ensures that the structural deck and support structure are at a similar temperature to that of the building interior. In buildings where the original roof has been designed incorrectly, the use internally has changed or there is a condensation risk, a warm roof build-up can generally solve the problem and protect the underlying building fabric from condensation and damp.
To ensure that the build-up complies with BS 5250 the supplier should provide U-Value and Condensation Risk Analysis using approved software to demonstrate the indicative calculated U-Value and to ensure that the peak condensation forming (if any) is acceptable and that there is no calculated moisture accumulation year on year.
All roofs are subject to wind uplift which is the force caused when the air pressure under the roof is greater than the air pressure above it. There are numerous influences on the level of wind uplift including the location, exposure, height, size, shape of the roof and this can be further influenced by factors such as air infiltration into the building below.
Warm roof build-ups can be mechanically fixed, adhesively fixed or a combination of both, with the majority of liquid applied systems featuring adhesive fixing with a fully bonded waterproofing layer. It is vital that each layer bonds to each other as a composite and that testing has been carried out on the full build-up to ensure that the warm roof is resistant to wind uplift forces well in excess of those calculated.
Your supplier should be able to help you with the necessary indicative calculations and provide evidence of the simulated wind uplift the proposed build-up can withstand.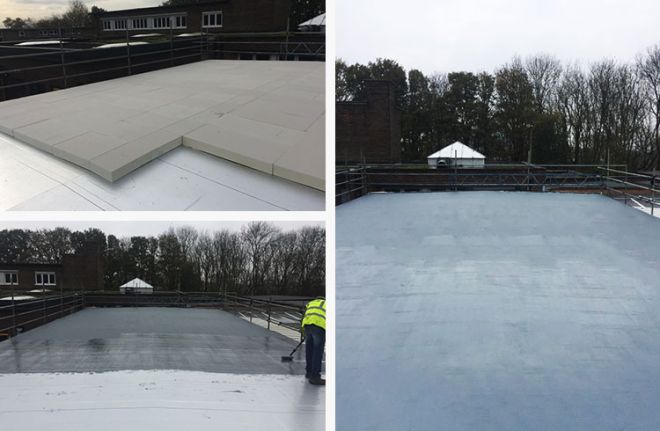 Consider the affects of raising the roof level
When you install a warm roof, you are raising the height of the overall build-up. BS 6229 recommends a minimum upstand height of 150mm and 75mm at thresholds. The addition of even a small amount of insulation can cause issues not only with compliance with British Standards but at existing details, outlets, other services and structures.
By raising the roof level you may need to consider altering the height of support legs and plinths for equipment such as air conditioning units, ducting or solar panels. You may even need to adapt rooflight kerbs, windows and door openings onto the roof.
Your supplier should be able to help you with understanding the consequences and look to assist in providing cost effective engineered solutions to avoid problems prior to installation.
There are a number of benefits in adding insulation to a roof but this will not in itself solve latent issues such as incorrect falls, ponding and drainage.
For this you may need to employ cut to falls insulation and other measures such as crickets to move the water to the outlets. Insulating and creating falls to gutters can be particularly problematic and needs careful consideration to minimise the risk of overflow.
Again, your supplier should be able to assist with full cut to falls insulation design and calculations to demonstrate that the variable build-up of insulation thicknesses is compliant with Building Regulations.
Consider the final waterproofing system
Just like any other flat roof, on a warm flat roof, the final waterproofing system is critical to prevent leaks and damage to the insulated build-up.
Not all systems are equal. A PMMA waterproofing system when applied to a warm roof build-up typically requires no priming, cures in just an hour, requires just one application and the entire cold liquid applied build-up can be applied to a typical roof in just a day. A solvent based polyurethane system in contrast will typically consist of multiple application layers with each coat taking much longer to cure, extending the time on site, disruption and risk from weather related influences.
Ultimately with a PMMA system, it means you don't need to worry so much about the weather as you only need a small weather window. In terms of total cost, this makes it better value because you will save on labour and installation costs together with associated costs such as scaffolding. The value is in the quality of the installed system, not the costs of installation.
Let your supplier take the strain
As you can see a warm roof although simple in principle requires a lot of specialist considerations. Your supplier should be able to provide you with everything that you need ranging from a survey and specification to bespoke calculations to single source supply of all components.
In addition to the quality of their waterproofing materials, what really sets an excellent supplier apart from the rest is the technical support that they can offer to make sure that you get the best possible solution from commencement to delivery of your project. You don't necessarily need to do your homework on warm roofs but you should do your homework in selecting the right partner.
Triflex ProTect warm roof
Suitable for both new build and refurbishment, the completely cold liquid applied Triflex ProTect warm roof system offers an engineered solution comprising all system elements. Triflex offers hydrolysis resistant roofing systems which are resistant to standing water and are suitable for zero pitch and completely flat roofs, and where a cut-to-falls insulation scheme is required, Triflex can provide the design.
View system details