The installation of warm roofs is becoming increasingly common as building owners drive for greater energy efficiency. Such systems are easy to install providing you are aware of any potential pitfalls. But by working with the right partner you can find a complete solution to get the job done right, not only in terms of materials but also in terms of technical support both on and off-site.
Here are our 6 top tips to ensure you get the right solution.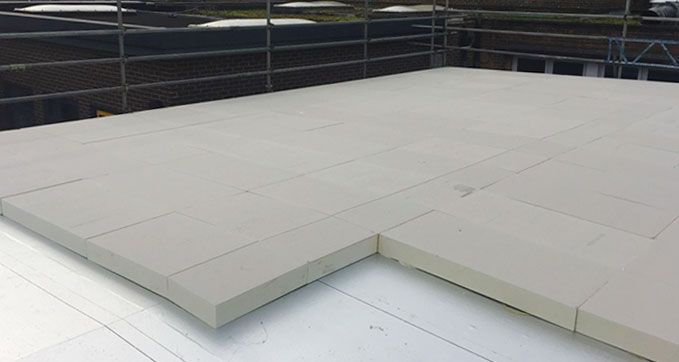 1. Understand the difference between a flat roof refurbishment and renovation
Firstly, the difference between a refurbishment and a renovation is that if more than 50 percent of the flat roof needs replacing then it is a renovation and you will need to install a warm roof system due to the requirements of Part L of the Building Regulations.
If the project is a flat roof renovation, then you need to install a warm roof to meet the requirements of Part L of the Building Regulations. This states that all roofs to rooms (except in unheated buildings) should be thermally insulated to a maximum U value of 0.18 W/m2K. Don't worry your supplier should be able to help you with the calculation to get the right insulation thickness.
If the job is a refurbishment then you don't need to install a warm roof, although you will miss out on energy and cost saving benefits. You may then decide to simply overlay the existing system with a new waterproofing system.
2. Consider the affects of raising the roof level
When you install a warm roof, you are raising its height by a few inches. This could affect other services and structures that are on or in the roof.
By raising the roof level you may need to consider increasing the height of support legs for equipment such as air conditioning units or solar panels. You may also need to adapt roof lights, windows and door openings onto the roof.
3. Be aware of wind uplift
To ensure that your solution stays in place you need to calculate and understand the potential wind uplift forces that it may face.
Wind uplift is the force caused by the deflection of wind at roof edges, roof peaks or obstructions. This causes a drop-in air pressure immediately above the roof surface. Uplift may also occur because of air pressure underneath the warm roof layers and roof edges. You need to consider how the insulation is fixed to the base substrate, is it mechanically fixed or bonded and will it resist forces trying to pull it away?
Certain applications will face greater wind uplift forces than others. Tall buildings, cities and coastal areas can all cause particular problems. Your supplier should be able to help you with the necessary calculations and also advise on what you need to do to ensure that your solution stays in place.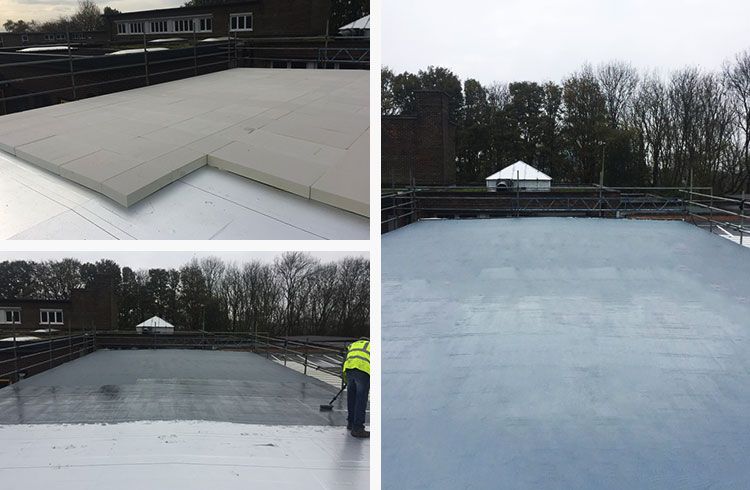 4. Warm roofs can solve other issues
There are occasions where installing a warm roof could do more than saving energy.  If the building has a problem with condensation, for example, then installing a warm roof could solve this issue and protect the fabric of the building from future structural issues due to damp.
5. Let your supplier take the strain
Your supplier should be able to provide you with everything that you need. If you are installing a warm roof you are effectively building a new substrate. You will require a number of different layers to build such a system and this will vary from project to project. In total, you could need several different layers.
It pays to get all of this from one supplier. But what really sets an excellent supplier apart from the rest is the technical support that they can offer to make sure that you get the best possible and correctly specified solution.
6. Consider the final waterproofing system
Just like any other flat roof, the final waterproofing system on a warm roof is critical in preventing leaks. But importantly not all systems are equal.
A Triflex PMMA waterproofing system such as Triflex ProTect, is ideally suited to warm roof applications. Curing in just an hour it can form a warm roof in just a day. When compared with other liquids such as Polyurethane (PU) systems, they typically consist of multiple application layers and in contrast will on average take 12 hours for the primer to cure and a further 12 hours for the waterproofing layer – so two days for a typical roof in total.
With the advantages of PMMA it means that you don't need to worry so much about weather windows and installation can be at any time of the year. Additionally, in terms of total system cost it can also provide better value, by saving time on labour and associated costs such as scaffolding.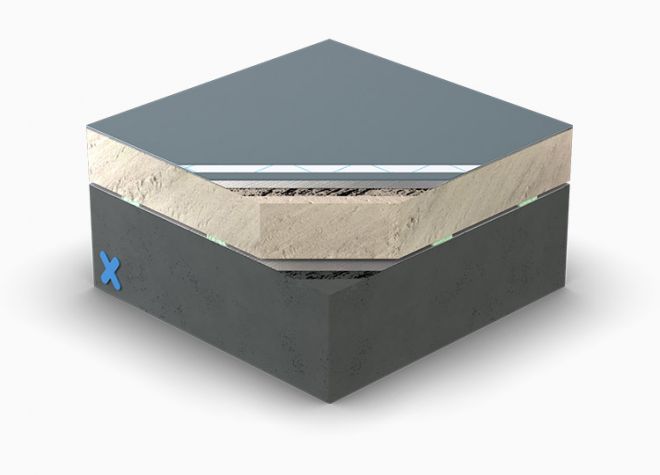 Triflex ProTect warm roof
Suitable for both new build and refurbishment, the completely cold liquid applied Triflex ProTect warm roof system offers an engineered solution comprising all system elements. Triflex offers hydrolysis resistant roofing systems which are resistant to standing water and are suitable for zero pitch and completely flat roofs, and where a cut-to-falls insulation scheme is required, Triflex can provide the design.
Take a look at the system