It's coming up to winter, it's getting colder, it's wet and your customer or client has got a leaking roof which if ignored will cause bigger problems to the building fabric. Your initial thoughts are whether the waterproofing membrane has reached the end of its working life and has failed, whether or not it's possible to overlay the existing membrane, and if so, what is the best solution to do so, and finally how quickly can works be carried out?
When specifying a liquid waterproofing solution, it is vital to employ a reputable manufacturer who should conduct a thorough site survey to ensure that you receive the best possible, bespoke solution to resolve the issue. The survey will need to establish the current build-up of the roof, whether there are any underlying issues causing problems and whether it is possible to directly overlay the existing waterproofing system.
However, the most important thing to understand is the nature of the problem, as you want the solution to provide lasting protection and solve the issue for the long term. To ensure this, there are a few things that your waterproofing supplier should be doing.
A visual roofing survey is very much like being a detective, investigating all the clues to reach the right conclusion. What clues? Well firstly, your supplier should consider the use of the underlying building. A classroom or office building creates a very different environment to that of a swimming pool or shower room. They should assess the underside of the roof for indications of leaks or condensation. Other signs of failure such as splits, holes, open seams and laps, delamination or blisters must also be investigated to determine the cause. Often details have been inadequately waterproofed leading to failures due to differential movement or simply the attempt to seal a complex detail with an unsuitable sheet system with multiple seams and laps. For this reason, it's important that every roof should receive a visual survey where it is safe to do so and all identified issues examined thoroughly.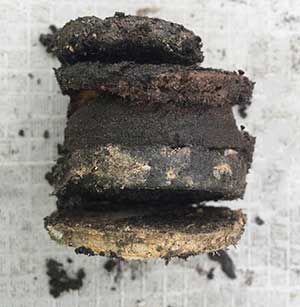 Example of core test and failed warm roof system
It is vital to understand the existing roof construction. This is commonly done through core tests, inspection of roof drawings or a combination of both. Core tests allow your waterproofing supplier to confirm the build-up of the existing roof in the core location and establish if there are any underlying issues within each layer of the roof's construction, such as damp insulation. They may also ask you for any drawings or information you have on the construction of the roof build-up, as this information can assist with investigations and determining condensation risks in particular. It should be noted that old roofs in particular were built at a time when condensation in buildings was less well understood and as a consequence may not comply with best practice.
Without conducting core tests or understanding the roof build-up from drawings it's not possible to determine whether by putting a waterproofing layer directly over an existing substrate, that you aren't introducing a new condensation risk or increasing the risk already there. In essence, making the problem worse.
Therefore, it's important that your supplier firstly determines the roofs construction.
The next tests will establish whether the existing substrate is suitable to be directly overlaid by your supplier's solution or whether it requires pre-treatment, priming or complete removal. This test is called a peel adhesion test.
As the name suggests, this tests that the liquid waterproofing system will obtain a strong bond to the substrate, and remain in place resisting wind uplift and movement. Sometimes additional preparation may be required to aid the adhesion, and sometimes this may be combined with priming and other pre-treatments. When it comes to adhesion, a reliable manufacturer will carry out a peel adhesion test to any existing coatings or membrane, ensuring that when installing a new waterproofing system, either directly over the top or with a primer, the best possible bond is achieved between the new waterproofing system and the substrate.
When overlaying single ply membranes based on PVC, in addition to adhesion testing the supplier should determine the risks of plasticizer migration.
Every roof is different and determining a solution is not as simple as simply looking it up in a brochure or on a website. Your waterproofing supplier is the key to ensuring a successful solution and you need to ask yourself how thorough they are in their detective work, have they done a full site survey, have they carried out the relevant tests, are they Poirot or Inspector Gadget?
The key is to employ a supplier who can spot all the relevant clues and advise you throughout the whole process, we are after all specialists in waterproofing systems and solutions.
At Triflex we offer comprehensive on-site support including site surveys and testing. If you have an issue with your existing waterproofing system whether on a roof, walkway, balcony, terrace or car park then we are happy to help. Simply contact 01785 819119 or info@triflex.co.uk to find out more.
If your facility has a leaking flat roof or one that is nearing the end of its useful life, you can register here for a free flat roof condition survey
Free flat roof condition survey